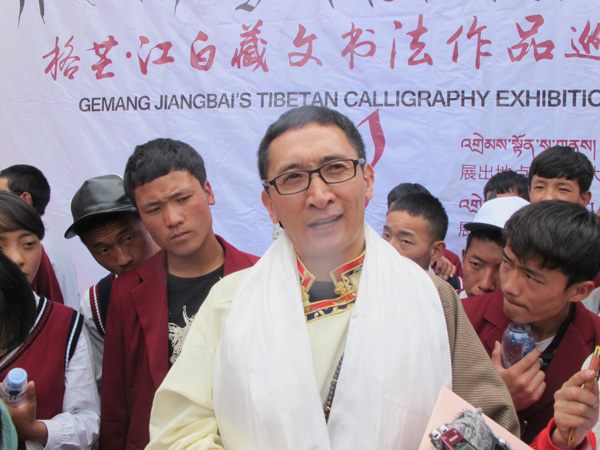 Gemang Jampal speaks with students visiting his Tibetan calligraphy exhibition in Lhasa. [Photo by Palden Nyima/chinadaily.com.cn]
The Sharta Yard in Lhasa's Barkor Bazaar was more crowded than usual on May 27 as people gathered to enjoy a visual feast of Tibetan calligraphy exhibition.
The calligraphy was created by Gemang Jampal, a Tibetan calligrapher, whose giant Tibetan calligraphy scroll was included in Guinness World Records as the world's longest in August 2013.
Having practiced Tibetan calligraphy for 34 years, the 47-year-old artist said this was his first large-scale exhibition, which contains 27 Tibetan font styles, including his three newly created font styles.
Gemang Jampal said he has spent more than 10 years creating the works. "I hope more people, especially young Tibetans, will get interested in Tibetan calligraphy through such activity, and I also expect such valuable culture will get better preservation," he said.
As a practical action to carry forward the culture of Tibetan calligraphy, many calligraphy training courses have been set up in Tibet and other Tibetan residential areas.
"It is not enough that only calligraphers work on this unique culture, it is important for young generation to learn more about it, and become successors," Jampal said.
Sonam Kunkyab, a student from Lhasa's Jiangsu Experimental Middle School, said he was surprised when he visited the exhibition.
"I am astonished to see so many different Tibetan font styles today, and I want to learn," the 18-year-old said.
The exhibition will last till May 31 in Lhasa before it tours to other parts of the country.