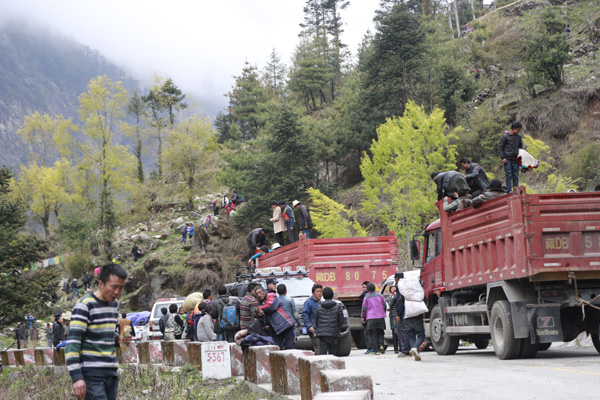 Vehicles carrying earthquake-affected people wait as landslides occur on Wednesday. [Photo by Daqiong and Palden Nyima/chinadaily.com.cn]
More than 1,300 earthquake victims in Tibet's Dam township were safely evacuated to the region's Nyanang county on Wednesday, and more victims will be moved to the counties of Dingri and Lhaze and the city of Xigaze, authorities said.
On Wednesday, the 30-kilometer-long valley was filled with the sound of ambulances and more than 100 vehicles lined up to transfer victims to safe areas.
The death toll in Nyanang county from the magnitude-7.9 earthquake in Nepal on April 25 rose to 10 by Wednesday morning. Three people were missing, and 60 people were injured.
A total of 4,576 houses collapsed or were partially damaged, and 17 temples were damaged.
Preliminary statistics show that 4,500 residents of Dam township have to be relocated, as well 18,929 residents of Nyanang county.
About 87 temporary settlements with1,380 make-shift homes have been set up for the victims, with food, water, clothing and bedding distributed.
Among those safely taken to Xigaze, the region's second biggest city, were 191 third-year, middle-school students and 16 students of the Nyanang Middle School.
Mimar Lhamo, a 54-year-old Sharpa resident of Lixin village, said she was in Dam when the earthquake happened, but she couldn't return house because the village was one of the hardest hit.
"I went to visit my mom in Dam that day, the ladder of the house broke up, and we were almost pinned under the ladder," she said. "My 82-year-old mom cannot walk well, and the ambulance took us from Dam to the camp in Nyanang, and now we are safe."
She said two people died and four people were trapped in houses in her village.
"The earthquake destroyed our door and wall, though nobody was hurt in my family. Now we feel safe," said Tsewang Drolma, an 82-year-old woman from Dam.
Karm Tenzin, 10, said her classroom was shaking heavily and "we were all frightened. Today we walked one and a half hours from Dam''.
Gesang Tashi and Phurbu Tondrub, two residents of Dam, were on their way to Nyanang county by a motorbike on Wednesday. "I was sleeping when the earthquake hit. I was so frightened that I cannot describe it with language," said Phurbu Tondrub.
Wang Jiangpei, 19, of China's Sichuan province, said he was at work at a logistics company in Dam when the earthquake hit. "I saw some houses were washed away by landslide," he said. "This is the second earthquake I have felt since one happened in 2008, and I think this one is more dangerous as the location is in a deep valley surrounded by mountains."
Contact the writers through daqiong@chinadaily.com.cn