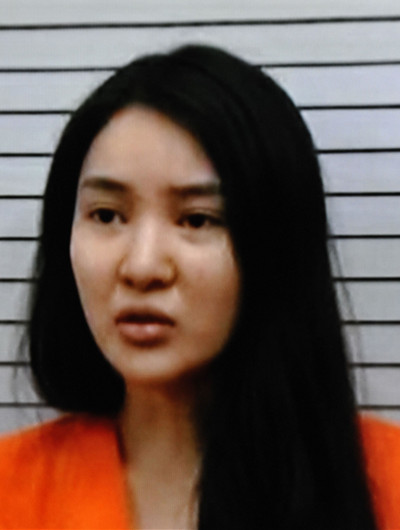 A screenshot from CCTV shows Guo Meimei in custody in Beijing last year.  
Guo Meimei, the 23-year-old woman whose online posts unfairly tarnished the reputation of the Red Cross Society of China four years ago, has been charged with operating a gambling house, according to Dongcheng district people's procuratorate in Beijing on Thursday.
"We have solid evidence to prove Guo and her friend, Zhao Xiaolai, organized others to engage in gambling on many occasions," said a statement by Dongcheng district people's procuratorate. "The circumstances were so serious that the suspects should be held accountable."
The charge dates to July, when Beijing police uncovered an Internet soccer gambling gang allegedly headed by Guo during the World Cup. Police arrested eight gamblers. In August, she was arrested on suspicion of running a casino.
The procuratorate instructed the police to gather more evidence to build an adequate case against the gamblers, who are said to be part of an online gambling ring.
Beijing police said that Guo allegedly opened accounts with overseas gambling websites, placed bets over the phone and through WeChat. Guo was also suspected of being involved in the sex trade and publishing fake information on a website she set up overseas.
According to Xu Yongjun, a senior judge from the criminal tribunal under the Supreme People's Court, "considering the solid evidence and crime facts, the prosecutors have charged her with operating a gambling house rather than providing sex services".
He said that according to China's Criminal Procedural Law those who provide sex services aren't punished under criminal law, but are deemed to have violated the public security management regulation.
Chinese Criminal Law stipulates that those who run a casino are subject to detention or jail terms of less than three years. In case of serious offense, the culprit may face three to ten years of imprisonment.
The Chinese Internet celebrity became notorious nationwide in 2011 when she claimed on social media that she was operating an organization under the auspices of the Red Cross and publicly flaunted her wealth and extravagant life style.
Her posts triggered concerns on how the State-owned charitable organization used donations.
After being arrested by Beijing police, Guo pleaded guilty and said that she had nothing to do with the Red Cross. She apologized to the group and the public.