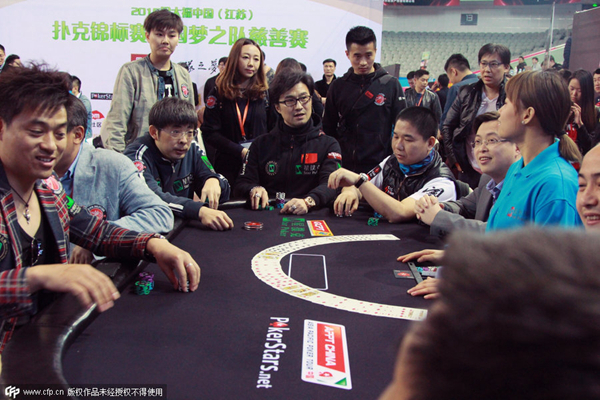 Wang Feng (center), a rock singer, attends a Texas Hold'em poker competition held in Nanjing, East China's Jiangsu province, on April 14. [Photo/CFP]
Police are investigating a poker contest in East China's Jiangsu province in which participants were allegedly involved in gambling, chinanews.com reported on Saturday.
The competition attracted more than 1,000 players from home and abroad.
Entry to the tournament cost a fee of 3,000 yuan ($484), and prize money was reportedly close to 8 million yuan.
According to a player who wished to remain anonymous, players at the Texas Hold'Em contest were allowed to buy their way back into the game as many times as they wished, which considerably increased the prize money.
Nanjing police suspended the competition on Friday after receiving tip-offs about its gambling nature.
Chinese celebrities, including Wang Feng – fiancé of Chinese actress Zhang Ziyi, 2008 Olympic shooting gold medalist Qiu Jian and 2004 Olympic table tennis gold medalist Chen Qi, were reportedly involved in the scandal.
Wang was said to have attended the event's opening ceremony and a charity game.
In his latest updates on his Twitter-like Weibo account, Wang denied the gambling allegation and said his participation was to raise money for the disabled.
"I really didn't know why a charity event turned out to be a gambling game," he wrote on Weibo.
Organizers did not gain permission from China's sports governing authority, the General Administration of Sports of China, to hold the competition, said Guo Yujun, head of the chess and card games division.
Despite the popularity it has gained in recent years, Texas Hold'Em has not been granted the status of an official competitive sport in Chinese mainland, where gambling is illegal, according to Guo.