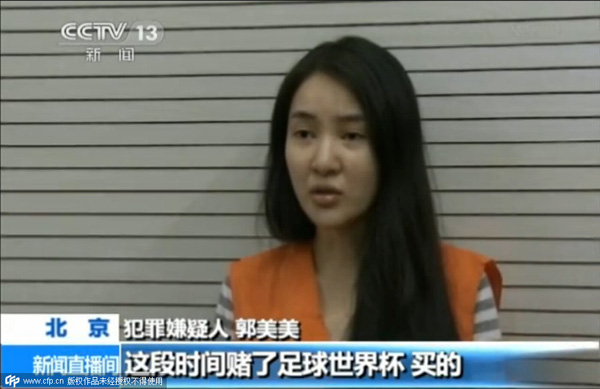 Video footage shows Guo Meimei receiving an interview after she was arrested for gambling online. [Photo/CFP]
A procuratorate in Beijing has rejected a case of online gambling filed against Internet celebrity Guo Meimei for the second time due to lack of evidence.
The court has instructed the police to gather more evidence.
The procuratorate had rejected her case once during the Chinese spring festival period. Anonymous sources close to the case say that the court has decided to reject this high-profile case for the second time, due to the lack of the evidence to build an adequate case against the gamblers, who are said to be a part of an online gambling ring.
Guo Meimei was caught by the Beijing police in July 2014 for gambling online. On August 20, Guo was officially arrested for allegedly running an "illegal" casino.
According to relevant laws, a legal case can only be rejected by the procuratorate twice. But Guo's case is slated to be heard by a local court in June this year.