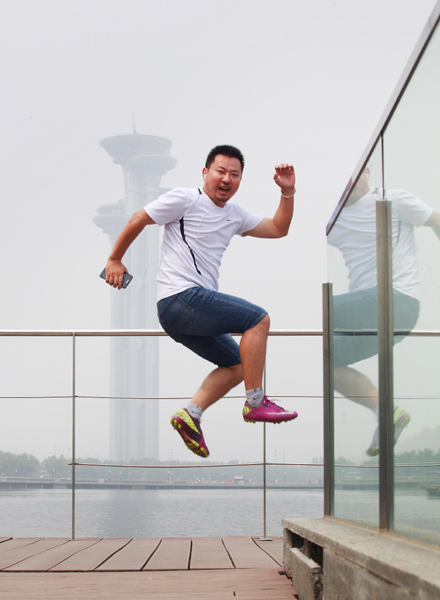 Guo Peng, the founder of Imore.net, uses his experiences in the Internet industry to make charity more transparent.[Photo/China Daily]
"The road of doing good deeds is filled with frustration," said Guo Peng, the founder of a technology company that supports charity projects. Yet he sees each frustration as a door that can open to a solution and a more effective way of providing charity. His story offers a glimpse of how charitable giving is China is evolving from mass donations of money into more effective interaction.
Guo's first frustration occurred in the wake of the Wenchuan earthquake in 2008, when going to banks over and over again to make donations from himself and his friends was too time-consuming.
"Since I have many years of working experience in information technology, I decided to use my Internet know-how to make it possible for people to donate online," he said.
He founded Imore, a company dedicated to charity projects. Its website, Imore.net, was completed in October 2010 and covers many aspects including projects, consultancy and events.
It was not long before China's charity sector was hit by its own earthquake. In 2010, Guo Meimei, a young woman who claimed to work for the Chinese Red Cross, showed off her luxury handbags and posed alongside expensive cars on her social network account, which set off a nationwide mistrust of State-operated charity institutions.
Qiu Mingbing, Guo's Peng's high school classmate, was part of the start-up of Imore, although he no longer works for the company.
"We wanted to make charity transparent," Qiu said. "But in China, when it comes to money, it often does not see the sunshine. The Wenchuan earthquake shook our souls deeply. However, doing charity is very much like entrepreneurship. One has to take tentative steps all the time without seeing clearly what they are leading to."
Guo said Imore's operating costs are covered by investment from the founders and some corporate support, so all donations can be directed to charity projects.
Guo learned a surprisingly lesson from the scandal, when he saw how powerful social media is in gaining the attention of people.
He moved some of the 200 projects on his website to China's then most popular social media network, weibo, allowing people to make small donations using third-party online payment tools in less than a minute. The scheme was called "One minute micro donations".
The move generated overwhelming results. Late one night, Guo received a call from the manager of a project that sold eggs with the proceeds going to children from poor families, who told Guo there had been a sudden surge in orders, each for 213 eggs.
"I found out later that a famous actor bought 213 eggs from the project on his birthday. He posted the order on his weibo account and called on his fans to give their best wishes not to him but to children in need," Guo said.
That one night, 70,000 eggs were sold.
Despite the good results from that scheme, Guo sometimes had to turn away donations.
At one point, a woman who earned the nickname of "Project Terminator", constantly donated the full sum targeted to be raised on a project. Once the target was reached, the project was closed and nobody else could make donations.
"I felt frustrated telling them to take back their well-intended offers, but our projects needed wide participation instead of just a few good-hearted people, and money transfers to any unpublished bank account is dishonest," he said.
On another occasion, a migrant construction worker wanted to transfer 100 yuan to Guo's bank account because he could not make an online payment.
That frustration, however, was another lesson for Guo. He and his team started providing supervisory services to guarantee the transparency of charity projects. In Free Lunch for Children, which delivered free meals to school children in underdeveloped regions, teachers upload information, such as the price of ingredients and pictures of children enjoying their meals to Imore, which then publishes it. One can click on a map on Imore's home page to see text and pictures of the project's recipients.
Donors have told Guo how happy they are to see where their money goes and how it's used to help the children. However, this model still offers very little interaction, something Guo wants to change.
"The information explosion has made people immune to sad stories," he said. "Fun ways must be developed for people to express their compassion."
This has led to the creation of the "Xingshan" application, which in Chinese means doing good deeds. It is a step-counting app for which businesses that sponsor charity projects donate an amount based on those figures.
His team has also developed a "smart" bracelet that connects to the app.
"We try to combine a healthy lifestyle with charity," said Guo. "Online payment has greatly lowered the threshold for charities.
"I hope that as more people engage in charity in an interactive manner, they will realize how important supervision is so that our supervisory service will see more demand in the market."