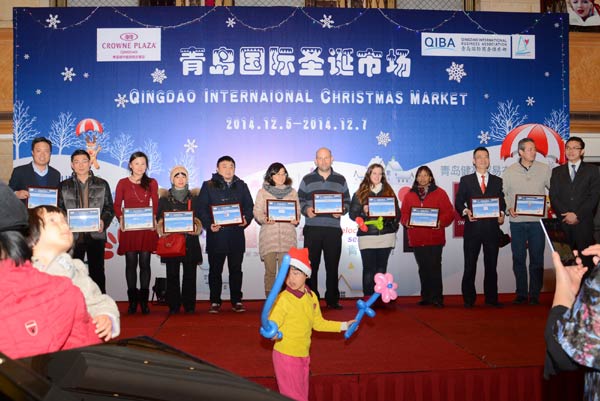 The 5th Qingdao International Christmas Market was held on Golden Street at Crown Plaza, Qingdao. [Photo/chinadaily.com.cn]
With the aroma of food wafting on the breeze through white tents, songs and dances performed by angelic children and a diversity of crafts and goods on sale, the 5th Qingdao International Christmas Market was held on Golden Street at Crown Plaza, Qingdao.
Mulled wine, grilled food and a wood fire, as well as Christmas trees, reindeer-like decorations and smiling faces created a warm, festive atmosphere as visitors from throughout the city swarmed to experience the German-style festivity with 14 countries and regions - the US, Germany, Singapore, Switzerland, New Zealand, South Africa, France, Russia, Hong Kong, Israel, Australia, the Netherlands, Brazil and Great Britain – taking part.
Jointly hosted by the Qingdao International Business Association (QIBA) and Qingdao Expat Charity Group the event was sponsored by Crown Plaza hotel which provided the venue and logistics support.
More than 30,000 yuan was raised for charity through the renting of tents and stalls and the proceeds will be used to finance medical treatment for under-privileged children and victims of club foot deformity and congenital heart disease through a cooperative project begun in early 2012 with the Qingdao Children and Women's Hospital, according to Matthew Bruno, chairman of QIBA.
"There are a lot of Christmas-themed commercial activities taking place in the city, but we do it only to help foster the festive atmosphere, provide a chance for expats to interact with each other as well as the local community and, most importantly, to help children," he said.
Bruno is also managing director of ReSource Pro, an American insurance processing and productivity solutions provider. His company sponsored the event and their staff volunteer organization, the Community Outreach Committee (COC) offered homemade snacks at the market.
"ReSource Pro has been actively engaged in community services and the COC members contributed more than 800 hours of volunteer service last year. Meanwhile, QIBA, as a non-profit association comprising foreign companies and Chinese international enterprises, donates their surplus to local charities every year," Bruno said.
Dong Chenggang, an active member of QIBA, said the association donated 150,000 yuan to local charities last year.
"The events hosted or co-organized by the association have also helped enrich the lives of expats in Qingdao, foster the city's cultural diversity and boost its internationalization," he said.
Apart from the Christmas Market, the association also organizes staircase running, an opera dinner and more than 10 lectures annually with participants from dozens of nationalities.