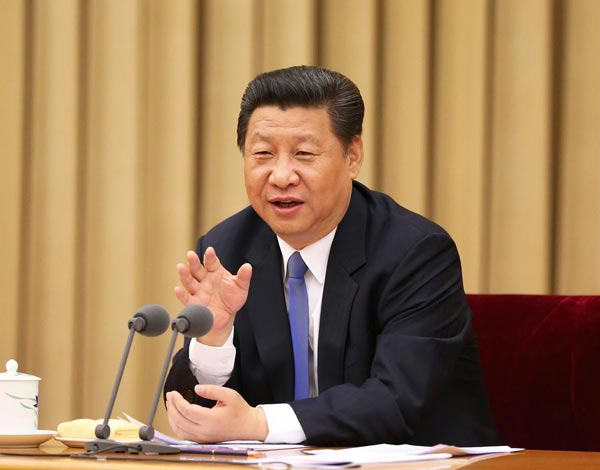 President Xi Jinping addresses a meeting of the united front work in Beijing, May 20, 2015. The meeting was held in Beijing from May 18 to 20. [Photo/Xinhua]
Officials were told to improve communication with prominent figures in new media as the Communist Party of China (CPC) wrapped up a three-day conference, People's Daily reported on its mobile news app on Thursday.
President Xi Jinping's order came amid a push for the government and the Party to better utilize new media, following the detention of several prominent figures.
"There needs to be a strengthened relationship with well-known representatives of new media, setting up regular contact and interaction both online and offline, encouraging them to make contributions to purifying cyberspace," State news agency Xinhua quoted Xi as saying.
It was the first time the president mentioned prominent figures in new media in remarks about united front work, which refers to the Party's efforts to manage relations with non-Communist Party members.
The conference sent a signal that authorities plan to strengthen work on united front, according to people.com.cn.
It was the first time in nine years that the Party had convened a work conference on united front and it was renamed the CPC Central Committee's Work Conference on United Front. This is also the first time that the conference was upgraded and put on a par with other central work conferences, said the People's Daily website.
In recent years China has stepped up its campaign against online crime including the dissemination of false rumors and pornography.
Charles Xue, known as Xue Manzi to his 12 million followers on Sina Weibo, the Chinese version of Twitter, was arrested in Oct 2013 on charges of having group sex with prostitutes and "instigating disturbances", a term used to refer to the spreading of online rumors.
In April last year a Beijing court sentenced Qin Zhihui, known online as "Qinhuohuo", to three years in prison for defaming celebrities and the government.
The number of Chinese netizens has exceeded 610 million. There are 143.9 million active users on Sina Weibo and more than 300 million users of WeChat, which allows people to send texts, photos, videos and voice messages over mobile phones.
To unite non-CPC intellectuals is strategically important, Xi said. Students studying abroad should also be encouraged to return home and serve the country, said the president.
In addition to prominent figures in new media and those having returned from overseas study, Xi also wants officials to make friends with businessmen from the private sector, especially young entrepreneurs, according to People's Daily.