Sixteen people were missing after a landslide hit a nine-story building in Guiyang, capital of Guizhou province, local authorities said on Wednesday.
The building, in the city's Yunnan district, collapsed at around 11:30 am after it was struck by a landslide triggered by heavy rain. Of the 114 people inside the building, 98 people had been confirmed safe as of Wednesday afternoon, the city's emergency response office said.
China Central Television reported that the rescue headquarters were able to detect the cell phone signals of 15 of the 16 missing people at the site, indicating that they could be buried in the debris.
The broadcaster also said that 14 people were rescued from the debris after the building collapsed.
The site was cordoned off amid the rescue effort as of Wednesday afternoon, with authorities saying that more than 100 rescuers are at the scene.
Residents of the community have been evacuated, the authority said.
A nearby resident, who only provided her surname as Liang, told China Daily she heard a roaring noise and then saw dust swirling in the air.
"Then I was asked to evacuate by the residents committee because there had been a landslide," she said.
Another resident, who didn't give her name, was worried about her daughter-in-law. "She lived on the ninth floor," she told Xinhua News Agency. "I called, but couldn't reach her."
A man surnamed Zhang who lived on the ground floor was pulled out by rescuers. He told Xinhua News Agency that he was awakened by loud noises. He was about to run from the building when he was buried by falling debris.
Contact the writers at yangjun@chinadaily.com.cn and xuwei@chinadaily.com.cn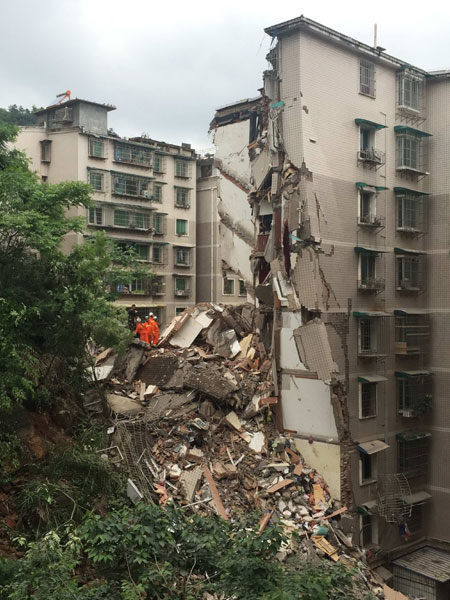 A nine-story building with 114 people inside collapsed on Wednesday morning in Guiyang, Guizhou province. The collapse was triggered by a landslide. Long Rui / for China Daily