Police encounter difficulties tracking suspects because services provided without identities
Police in Hubei province have cracked down on a gang suspected of deleting online posts, with 10 alleged members arrested and another five on the run.
Nearly 2,000 service providers in 22 regions are involved in the business, according to the police department in Qichun county.
The gang has been paid more than 50 million yuan ($8.17 million) since it allegedly began deleting posts two years ago, the department said.
In September 2013, the Supreme People's Court and Supreme People's Procuratorate issued a judicial interpretation stating that the deletion of online posts is a crime.
Police said that Yu Mou, 26, one of the alleged service providers, told them he had made 7.8 million yuan since he began seeking such business online in 2011.
They said he had taught himself computer technology since leaving high school. The illegal business practice brought him considerable wealth and he owns a villa in the county and a Mercedes-Benz car, they said.
The business was spurred by huge demand for the deletion of information relating to corrupt government officials, according to police.
Records obtained by officers show that the deleted posts include those referring to an official's sex scandal and also to a prosecutor's financial assets.
A county chief in Shanxi province, an area investigated heavily in the nationwide anti-graft campaign, spent 38,000 yuan to delete 52 posts in February 2013. The price for each post ranged from 300 to 2,000 yuan.
According to a suspect held by police, a number of companies keep a close watch on negative news about them and then request the service.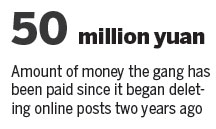 "This was a huge market, especially after the anti-graft campaign was launched in late 2012. Business boomed and kept us burning the midnight oil," the suspect said.
He said the price for deleting each post was based on the number of hits and the popularity of the website, ranging from 100 to 1,000 yuan each on obscure sites and 2,000 to 4,000 yuan on well-known ones.
Luo Zhongsheng, the officer in charge of the case, said the business was carried out on the QQ online chat platform and was well organized.
"It is difficult for police to hunt the suspects because the services are provided by individuals online without a real identity and without a fixed location," he said. "In addition, there is scant evidence left when they deal with clients."
Shen Yang, an Internet communications professor at Tsinghua University, said proper laws and regulations should be in place to curb such business. Restrictions should also be imposed on website management.
"Deleting online posts for profit should be punished as a crime, and channels for complaints about defamatory and false posts should be available," Shen said.
zhang_yi@chinadaily.com.cn