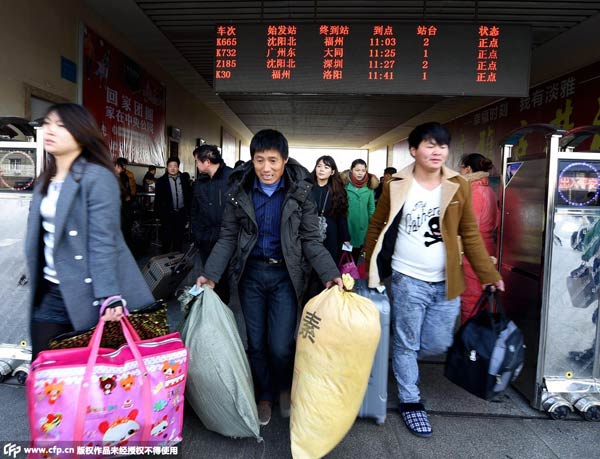 Migrant workers walk out of the Haozhou Railway Station, East China's Anhui province, Jan 18, 2014.[Photo/CFP]
As the first wave of Chinese migrant workers return to live in their hometowns, they may find that life has changed dramatically from when they first left, a PhD student in Shanghai University revealed in his journal published in The Paper.
Rural areas tend to evoke empty villages where the working population has left, but the fact is that more and more middle-aged migrant workers are coming back home in recent years, said Wang Leiguang, a native of Luotian county of Hubei province who impressed readers with his "Journal of returning to hometown" during the Spring Festival.
Ever since China's reform and opening-up in the late 1970s, waves of farmers left their land and worked in cities, where they could enjoy higher incomes but faced various disadvantages.
After working in cities for decades, they feel tired and no longer welcome in the city. Most of them have built new houses in their hometowns and have some savings. More importantly, they have to look after their grandchildren, as Wang elaborated in his article.
The year-on-year growth rate in the number of migrant workers has been declining since 2010, said a report released by the National Bureau of Statistics in late April. Since 2004, China has encountered a continuous labor shortage and many migrant workers aged above 50 have returned to their hometowns, as Wang has noticed in his hometown, Luotian.
However, returning home doesn't mean a return to farming. Since most young laborers moved to the cities, the remote farmlands have become wastelands no one wants to reclaim. Meanwhile machines have replaced manual work in the remaining farms. Even so, many don't really care about the harvest and some even give up their land.
City life has apparently estranged them from the farmland.
Meanwhile, the pace of urbanization in China during the past 25 years has seen the decline of many villages. As people have drifted away to urban areas, the countryside has become stripped of community and culture.
Unlike twenty years ago when villagers could enjoy various activities such as temple fairs, outdoor movies and opera performances, there are almost no cultural activities these days, as rural people left for cities to find better-paid jobs. When those migrant workers return, they find that villagers have less contact with each other, even between neighbors. Most of them stay at home watching TV.
Rural life is lonely and dull. Wang described the common sight of an old man or woman sitting in the sun at the gate every day, greeting acquaintances when they pass by, as if waiting for death to come.
Increasing social bonds may be a solution to fight the alienation in the countryside, Wang suggested. He found that villagers communicated more and felt happier during their efforts to build a road.
Zhou Jinming, an agricultural official with the Yulin government of Shaanxi province, suggested that the government should focus on supporting large villages by improving conditions, such as setting up libraries and clinics.
In this year's No 1 Document, the central government called for efforts to build a beautiful countryside.