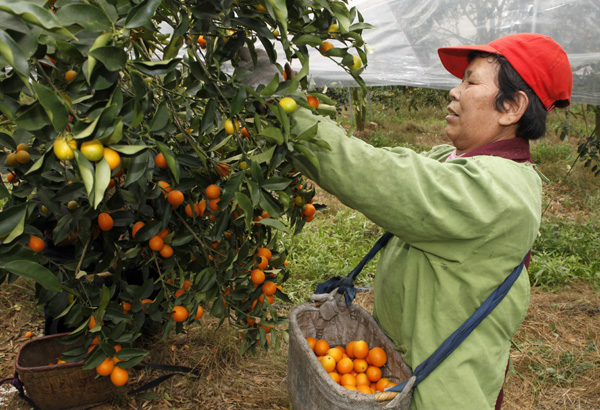 Lai Yumei picks cumquats in her orchard in the mountains near Guilin in the Guangxi Zhuang autonomous region. [Photo/China Daily]
When Lai Yumei quit her job in 2001 at a plastic flower factory in Guangzhou at the age of 32, the migrant worker had made a plan for her future back home in the mountains near Guilin in the Guangxi Zhuang autonomous region. She wanted to plant cumquats, because she found that the fruit was popular and expensive in Guangzhou.
She is now recognized as the most successful businesswoman in Baisha, where she employs more than 100 villagers at a 20-hectare orchard, a 60-hectare tea plantation, a restaurant and a hotel. Her business now generates a profit of around 30 million yuan ($4.8 million) annually.
Busily serving dinners at her two-story wooden restaurant built halfway up a mountain, she offers strangers no clue that connects the smiling dark-skinned woman in plain clothes with a wealthy entrepreneur.
"Were it not for my fellow villagers' generous support, I would not have the orchard," Lai said, recalling the beginning of her business. Dozens of local people helped her reclaim the mountainous fields for free, which requires tremendous manual labor in Guilin's karst landscape, and planted fruit trees.
"They trusted me, and said I could pay them after the trees yielded cumquats," Lai said.
Lai took the lead in the village as early as 1992 in her early 20s to cultivate the virgin land and grow some cash crops. But their efforts were hampered due to the poor transport links between the area and the outside world.
She was among the first batch of migrant workers from the village, leaving the mountains to work in Guangzhou.
It was difficult for a farmer to obtain a bank loan at that time, because of the lack of mortgages. Lai sold her homes, borrowed money from many relatives, and invested all the money together with her savings in the orchard. The township government also provided her with about 100,000 yuan as a subsidy to reclaim the virgin land in the mountains, and invited agricultural experts to help her.
It took them three years, from 2001 to 2003, to reclaim the land and plant the trees, and another three years for the trees to yield fruit. The first harvest came in 2007.
By 2009, Lai had not only paid off all her debts, but also donated money to build a paved road connecting the mountain village with outside world. The smooth road surface meant that the cumquats were in a much better state than before when they reached their final destination.
She reinvested the proceeds of the cumquat sales into a much larger tea plantation and a medium-sized restaurant and hotel.