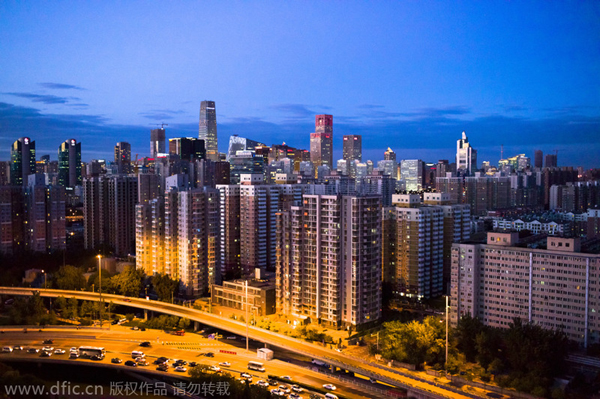 Night view of residential apartment buildings in front of skyscrapers and high-rise buildings in Central Business District in Beijing, Sept 3, 2012. [Photo/IC]
BEIJING - The transaction volume of second-hand homes in Beijing reached 17,191 in April, the highest in nearly 25 months, according to new data from property agent Centaline.
Zhang Dawei, chief analyst with Centaline, attributed the rise to easing policies on buying and selling the second-hand homes.
In late March, China's central bank cut the minimum down payment requirement for second home buyers to 40 percent.
Minimum down payments for first and second home purchases using the housing provident fund, which offers urban residents lower rates than those of commercial banks, were also lowered.
Business tax will be exempted on sales of homes purchased more than two years ago, in stead of the previous requirement of five years, announced by the Ministry of Finance.
The property market will be better this year, Zhang said, citing continuous policy stimulus. The demand for improved housing will increase and add energy to the brisk market.
China's property market took a downturn in 2014 due to weak demand and an excess of unsold homes. The cooling has continued into 2015, with both sales and prices falling and investment slowing.
Since November 2014, the central bank has cut interest rates twice. Banks' reserve requirement ratio (RRR) was also cut twice.
Related story: Curbs eased by leaders to boost real estate sector, by Chen Jia and Wu Yiyao, China Daily
The Chinese leadership has decided to ease the housing credit policy to boost the property market and to add fuel to overall economic growth.
The central bank, the People's Bank of China, cut the minimum down payment for second homes to 40 percent from 60 percent on Monday.
The bank said the policy is designed to improve the living standards of buyers who have not paid off their existing mortgage but are buying a second home.
The Ministry of Finance said in a separate statement on Monday that it is easing taxation on home sales.