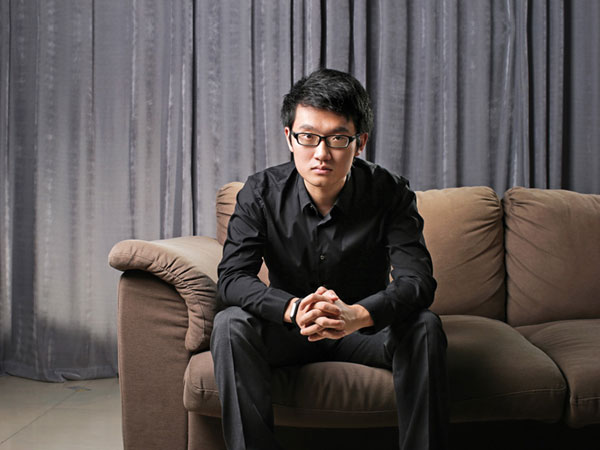 Yin Sang, founder of 17chang, or "sing together",an online karaoke/social networking platform, was the youngest person in 30 under 30 listing of entrepreneurs of Forbes in Chinese version last year. [Photo from web]
Yin Sang, 22, has founded three companies while his childhood buddies are still sending out resumes.
Like thousands of young people inspired by Microsoft founder Bill Gates' empire, Yin believed in the idea of changing the world for the better by using technology.
The Chinese version of Forbes published its 30 under 30 listing of entrepreneurs early last year. Five are born after 1990, Yin is the youngest.
He founded an online karaoke/social networking platform called 17chang, or "sing together". The platform aims to change the traditional karaoke industry by introducing Internet-based social networking features. Customers can share their own voices by partnering with bricks-and-mortar karaoke bars, they can even invite other users to sing with them offline.
Yin is just the one of millions of young people to have started their own firms at a very young age.
According to a report issued by the National Entrepreneurship Research Center of Tsinghua University's School of Economics and Management in Beijing, the "early-stage startup index" of China, the country placed 22nd among 70 countries, meaning it is regarded as "active" in entrepreneurship.
People born in the 90s are experiencing China's best time. This generation passed their childhood and adolescence as the country entered a steady, settled period with the economy taking major strides.
Their 60s-born parents slaved to ensure their children enjoyed the best possible life and education of any generation.
Yin was long interested in entrepreneurship and his parents supported him to go to the US and study. Only two universities at the time offered a course in entrepreneurship.
The 90s-born generation hasn't experienced famine, poverty, wars or material deprivation. They never feel insecure about material matters as do middle aged people.
That might just be the difference between the post-90s entrepreneurs and those born in the 80s or even earlier.