Post-95 entrepreneur aims to bring China's agriculture online
By Ma Danning (chinadaily.com.cn)
Updated: 2015-04-29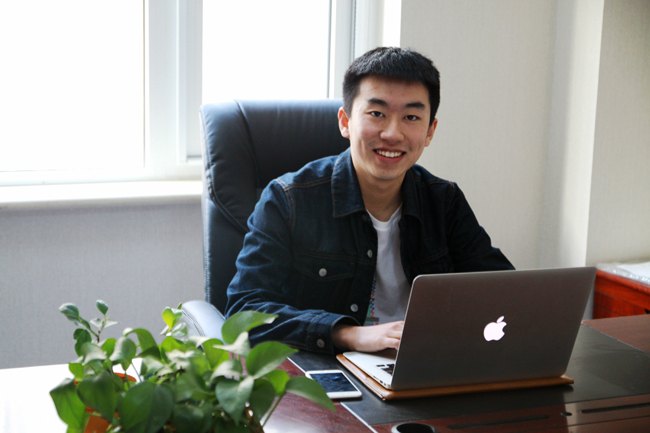 Post-95 CEO Gou Yingda in his Beijing office, on April 17, 2015. [Photo by Song Wei/chinadaily.com.cn]

20-year-old Gou Yingda has already spent seven years in Internet start-ups, and is working to use the Internet to transform China's agriculture.
Tall and slim, wearing sports shoes and a jeans jacket, Gou Yingda runs in quick steps upon arriving for the interview. His brisk manner and the bounce in his step make him seem like any other 20-year-old.
However, the young man is already an industry veteran, having spent seven years in Internet start-ups, and is now the CEO of an Internet company aiming to link farmers with urban consumers to guarantee green, organic produce. He smiles frequently and shows not the slightest trace of tiredness, even though he only slept four hours last night due to work.
The company he runs, Ye Nong You Pin Technology Co Ltd, rents the usage rights of farmland to consumers for prices ranging from 299 yuan ($48) to 1,699 yuan ($273) per year, based on the size and quality of each plot, and hires farmers to grow crops on them. In fall, during harvest, the company delivers the produce from their plot to the consumer after some standard processing.
"Our company aims to optimize farm inputs, as farmers know the market prospects before they grow crops, improving efficiency and reducing pollution,"said Gou.
The company sets up cameras on the farmland, and provides real-time updates via live streams, so consumers can check on their plants on mobile phones. It did this because Gou believes the key to successful branding is consumers' trust, and allowing them to watch the whole farming process fulfills this goal.
"We pledge to provide organic food with no pesticide residue, and aim to become China's top agricultural brand," said him.
A quick look at his Wechat Moments reveals that Gou is a workaholic. He flies out of Beijing every two to three days on average to attend seminars, check on farmland, and give lectures. Many photos he posts show him working at midnight and eating instant noodles.
"Investors choose me because I'm persistent in what I'm doing, and they believe in my business model," he said.
Gou was born in 1995 in Chifeng city in North China's Inner Mongolia autonomous region. Growing up with the Internet, he understood the commercial value of Internet connections at a young age.
"I became addicted to programming in primary school," he said. He created a game forum, which earned him 200,000 yuan during operation. This boosted his confidence, and he decided to become an Internet entrepreneur.
After high school, he spent a whole summer at a coffee house, a well-known hub for business starters in Beijing. There he immersed himself in the circle and eagerly exchanged views with other entrepreneurs and investors. The passionate young man gradually got to know famous investors like Angel Investor Xu Xiaoping and Tong Chen from IDG Capital Partners.