Post-95 entrepreneur aims to bring China's agriculture online
By Ma Danning (chinadaily.com.cn)
Updated: 2015-04-29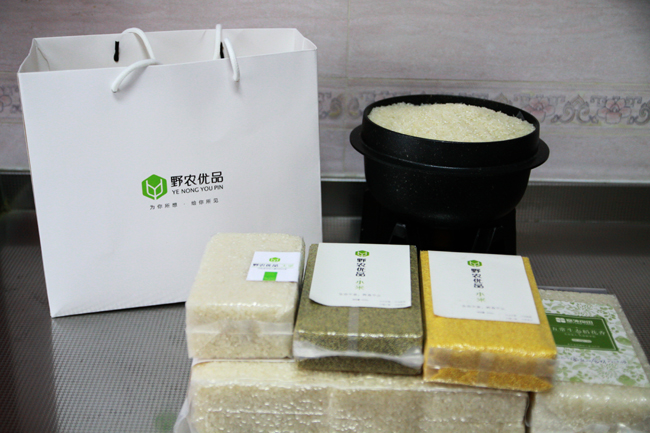 A package of cereals produced and branded by Ye Nong You Pin Technology Co Ltd, the company that Gou Yingda runs. Photo taken on April 17, 2015. [Photo by Song Wei/chinadaily.com.cn]
In late 2014, Liaoning agricultural entrepreneur Yu Lianfu, believing in online agribusiness and Gou's potential, invested more than four million yuan in him to start the company. Then a student at China University of Science and Law, Gou temporarily suspended his studies to focus on his career.
Now the company has gained the usage rights of 30 square kilometers of prime land in Xinbin county of Northeast China's Liaoning province. The county was rated as a national prime spot for growing precious herbal medicine including ginseng, due to its fertile soil on the river basin and its low pollution levels.
However, farming methods there remained primitive, like in most rural Chinese areas. Farmers farm their own small plots of land and lack branding. They decide what to grow based on last year's market. As a result, oversupply causes unreasonably low prices and waste as crops are left to rot in the field.
"Agriculture will tend to be developed on a larger scale, and the market can now be predicted using big data. I see the backwardness of traditional farming, and also see the huge business potential if I bring information technology in," said Gou with confidence.
His words echoed that of Chen Xiaohua, Vice-Minister of Agriculture, who stressed that information technology is the key for China to modernize its agriculture.
Gou has just received a five million yuan investment from IDG Capital Partner, and is working on drawing the next round of investment.
Asked why he didn't continue developing apps or websites, since they are both popular and lucrative, he said it was because they are not quite beneficial to society. Through his agribusiness platform, on the other hand, farmers can increase their income and urban people can eat healthier.
Gou believes that post-90 entrepreneurs like him understand the Internet better, and are prone to break old industry molds because they are not part of entrenched interest groups. But they also face obvious disadvantages: they lack experience in dealing with people, have few networks, and lack capital.
According to Youth Business China, a foundation that provides training and investments to entrepreneurs, only one in ten young entrepreneurs succeed. But this data doesn't bother Gou at all. "I'm just doing something that I like, so I feel my life is meaningful," he says.
Gou said he hopes he can be a confident and charismatic man like Jack Ma, founder of Alibaba. At 20, his career has just begun.