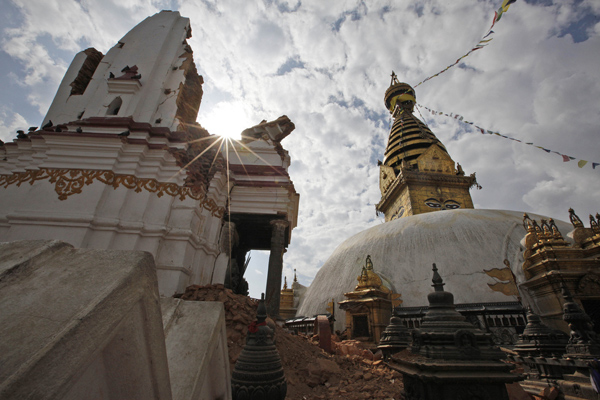 This April 30, 2015 photo shows a view of the famous Swayambhunath stupa after it was damaged in the April 25 massive earthquake in Kathmandu, Nepal. [Photo/IC]
UNESCO Representative to Nepal Christian Manhart said that the situation of Nepal's damaged cultural sites is "crucial" and China's help could play a significant role in the restoration process.
In an interview with Xinhua on Wednesday, Manhart said the historic sites in Kathmandu are in critical condition after the 7. 9 magnitude earthquake which hit the country on April 25. "Eighty percent of temples in Kathmandu Durbar Square were destroyed, half of the temples in Patan Durbar Square and half in Bhaktapur Durbar Square were also destroyed, and the situation in Swayambhunath is also critical," said Manhart.
Regarding the seven World heritage Sites in Kathmandu Valley, he said "Five of them were heavily destroyed and one suffered medium damaged and one is fine."
Manhart said he had consulted with one earthquake expert from Kyoto University of Japan. The expert said the earthquake triggered many deep cracks in the soil at many sites. As soon as the rainy season comes, water could flow into the heavily damaged Swayambhunath which is located on high ground and landslides may occur.
When answering questions about the potential cost and time to rebuild those ill-fated sites and monuments, the UNESCO representative said it's very difficult to say because they haven' t yet done the total evaluation in the country. "What we have done now is the rough (cost) evaluation of the damage, but not the restoration, because it's the second phase, before that we have to do the emergency consolidation of those buildings still standing but in serious danger of collapsing," he told Xinhua. "Only then will we draw precise documents for each monument for the reconstruction, those documents will include budgets. I think it could be tens of millions or a hundred of million of dollars," he said, adding"it's very difficult to give a figure now."
Manhart said Nepal is one of the poorest countries in the world and needs a lot of funding for the restoration, because it's not only the seven heritage sites but hundreds or even thousands of temples in the country which also need rebuilding.
Manhart's office is currently coordinating efforts of different organizations, specialists and relief teams who work on destroyed heritage sites. Besides that, UNESCO's own professional team of archaeologists also went out to make assessment and made some plans for emergency consolidation.
For example, he has met with an Italian relief team at the Patan Durbar square to help consolidate the building which has not collapsed
According to Manhart, fund raising is extremely important for the restoration and his office has received 50,000 U.S. dollars from a private person from China's Hong Kong for the emergency consolidation and 70,000 U.S. dollars from the heritage fund.
Moreover, they also appealed for funding from the UN in the field of culture consolidation and assessment.
Manhart said international help is vital to rebuild those ancient buildings and China could play a significant role in the project. "China can provide enormous help because it has experience in earthquakes and landslides, so China could provide specialists, teams and equipment to work with us for the emergency consolidation," he stressed.
He also called on Chinese cities as well as entrepreneurs to donate for the reconstruction funding, which would be very kind and useful as he described it.
The 7.9 magnitude earthquake which has already claimed more than 7,000 lives last week has also destroyed an abundance of magnificent historic sites in Kathmandu valley, including temples and ancient towers.