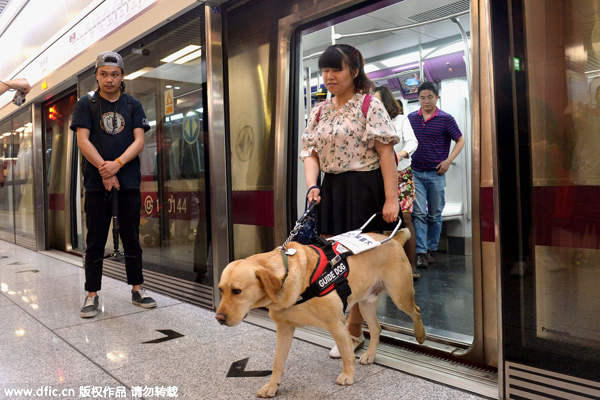 Zi Long guides Wu Wenhao out of the metro train in Beijing, May 1, 2015. Wu Wenhao, a visually impaired woman, accompanied by her guide dog Zi Long and her boyfriend, took subway line 15 from home to a supermarket after guide dogs were allowed on subway trains by Beijing authorities. [Photo/IC]
BEIJING - Beijing on Friday started allowing visually impaired passengers to take guide dogs onto the subway, while blind rights advocates continue to urge greater accessibility for the dogs in the city's public transportation system.
The widely praised change was the result of a subway management regulation approved by the Chinese capital last year, which took effect on Friday. The regulation also bans begging, performing and handing out fliers and threatens violators with fines.
Chen Yan, a blind piano tuner and campaigner, got some curious stares from other passengers as she entered the Tiantongyuan station on Line 5 with her guide dog Jenny on Friday.
With the help of subway employees, Chen and her dog entered a carriage designed for disabled passengers and later transferred to Line 2 to arrive at Beijing Railway Station.
Guide dogs are a rare sight in China. Only about 70 guide dogs are in service in the country, which is home to 16.9 million visually impaired people, and the animals are often denied entry to public transportation.
Chen said the city still lacks regulations on bus travel for guide dogs and it is common for them to be turned down by taxi drivers.
Crowdedness on the trains, especially during the morning and evening rush hours, poses another challenge for blind passengers who want to ride the subway with their guide dogs, said a blind translator and campaigner using the nickname "Candie's Mom."
Shanghai and Chengdu have passed similar regulations to allow guide dogs on the subway.