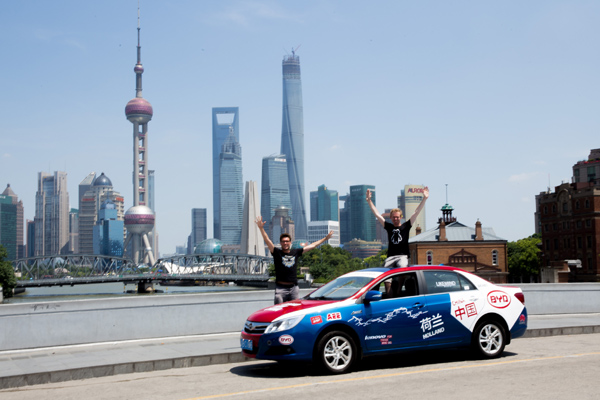 Maren Striker (left) and Rogier Bikker pose in front of the Oriental Pearl Tower in Shanghai before setting off on their three-month journey. Photo provided for China Daily
Two Dutchmen have completed a three-month road trip from China to Holland to show the world what Chinese brands are capable of.
Rogier Bikker and Maren Striker used only Chinese products during their 20,000-kilometer journey from Shanghai to Rotterdam. They traveled through 11 countries on the old Silk Road, including Kazakhstan, Turkmenistan and Iran, equipped with Chinese brands from top to toe. They drove a Chinese car and used Chinese smartphones and cameras.
Bikker is a road trip enthusiast and marketing specialist who has lived in Shanghai for six years. Striker is an urban planner who spent seven years in the city.
The idea for the trip came to them during a night out in 2013. Both wanted to make an extraordinary journey back to Holland, and this wish grew into a project to prove that China is no longer a copycat and factory for the world, but has become a place where people working for fascinating companies design innovative products.
Their "Brand New China" project was launched in the autumn of 2013. However, the search for Chinese companies that shared their vision was not easy.
They sent at least 5,000 emails to everyone they knew who worked for a Chinese company in the hope that the messages would be forwarded to the right people. A lot of replies came back with the words, "No, thank you."
It wasn't until around Christmas that year that they found their primary sponsor. Bikker was in Rotterdam for the holiday, and was told that BYD Auto, an automobile manufacturer based in Shenzhen, Guangdong province, had showed interest in their project.
The carmaker's European headquarters was only an hour away from Rotterdam. During Bikker and Striker's visit there, Isbrand Ho, BYD's European managing director said, "Let's make this thing happen."
Bikker said: "Let's be honest, BYD took a big risk. Imagine if something had happened to us, the story would be very negative."
"They really believed in themselves and they believed in us. You need to have both."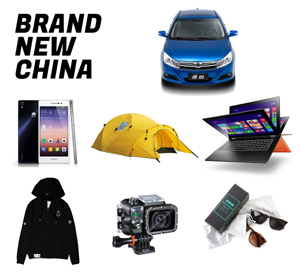 The carmaker offered them a box of spare parts and three simple services during the trip.
The pair were given smartphones by Huawei and laptops by Lenovo, and the outdoor brand Ozark offered them an unlimited shopping spree in its Shanghai store. Most of the sponsors were founded in the past 20 years, and some are even new to the Chinese.
Bikker and Striker set out from Shanghai on July 26 last year, but had no idea how far they would be able to go.
Many people drive from Europe to China, but far fewer go the other way. Bikker and Striker did not know if two Dutchmen in a Chinese car with a Chinese plate would be allowed through all the borders they would encounter.
In fact, the only delay occurred at the Turkmenistan-Iran border, where they spent three days as Iran would only allow their car to enter the country if it was loaded onto a truck. The car got through at last with help from BYD.
Landscapes changed continually along the route, from mountains to deserts. Some roads were well-paved, others were dusty and muddy and sometimes there was no road at all.
Striker was injured when he fell off a horse in a remote part of Sichuan province, and the pair were unable to find a hospital with a CT scan machine. He had headaches and was suffering from food poisoning.
"That was probably the biggest challenge we had along the road," said Bikker.
Luckily, Striker recovered and was soon well enough to continue the trip.
There were other problems along the way, but people were always willing to help.
In Almaty, Kazakhstan, Bikker's bag containing his passport and camera was stolen in a bar.
The bar's security guard retrieved his belongings after reviewing surveillance camera footage and discovering that the thief was the bar owner's dentist.
In Uzbekistan, a speeding taxi bumped into the right side of their car, forcing it to swerve into another vehicle. A passer-by offered help after the crash, and spent the rest of the day translating for the travelers at a police station.
Iran was the most welcoming country they visited, Bikker said. A number of families invited them to have dinner and spend the night in their homes.
One morning, Bikker went to the kitchen in the home of one family and saw that their hostess was making toast with jam for her husband and two children, just as his mother does for him in Holland.
"This made me realize how similar people in different places of the world are," he said.
They arrived in Holland on Oct 31. The Chinese brands exceeded their expectations and those of Chinese people they met on the trip. When the pair arrived in Cappadocia, Turkey, they met a group of Chinese tourists who could not believe they had traveled so far in a Chinese car, said Bikker.
Striker now lives in London. Bikker has a new job at a Swedish branding agency in Shanghai and helps Chinese companies to build their brands in both domestic and international markets.
Bikker thinks the first step for Chinese companies wishing to build their brands is to start being proud of being Chinese.
"There are a lot of Chinese brands that either hide their heritage or try to appear foreign. You'll never be foreign, just like a foreign brand can never be Chinese."
Bikker added that Chinese technology companies such as Tencent, Alibaba and Xiaomi are outpacing foreign competitors in innovation.
"There are a lot of industries where this is definitely not the case, such as automobiles, China is still far behind," he said. "Although the BYD car works perfectly well in terms of brand value, they're still far behind Audi or BMW.
"If you ask what kind of feeling BYD gives, it's not as positive as BMW, right? They still have a lot of work to do."