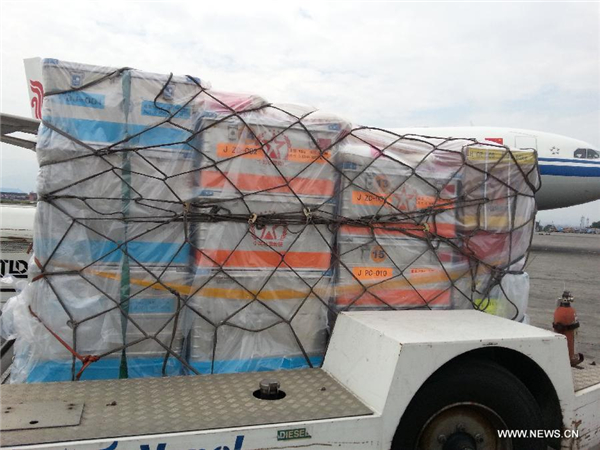 Reliefs carried by China International Search and Rescue Team are seen at Tribhuwan International Airport in Kathmandu, capital of Nepal, April 26, 2015. Members of China International Search and Rescue Team arrived in Nepal on Sunday to carry out humanitarian rescue work following a strong quake struck the country on Saturday. [Photo/Xinhua]
BEIJING - The Chinese government has decided to provide 20 million yuan (3.3 million US dollars) in humanitarian aid to Nepal following the massive earthquake, according to the Ministry of Commerce on Sunday.
The aid, including supplies of tents, blankets and generators, will be delivered to Nepal by chartered planes, the ministry said, adding China will offer further support according to Nepal's demands.
A massive 8.1-magnitude quake shook Nepal at 2:11 pm (Beijing Time), killing more than 2,000 people in the country.
A 62-member China International Search and Rescue Team (CISAR) arrived in Nepal's capital Katmandu at Sunday noon and started quake-relief work, according to the China Earthquake Administration.