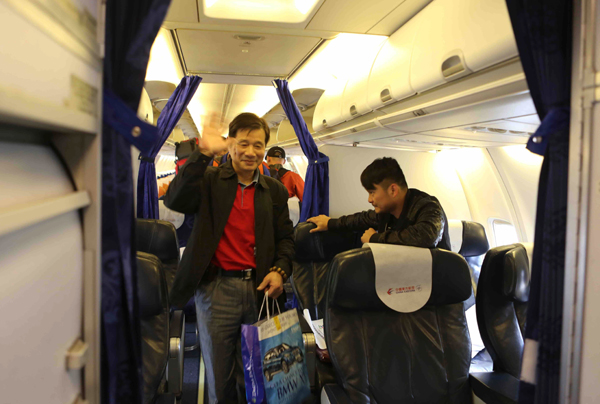 Chinese passengers arrive in Kunming, capital of Southwest China's Yunnan province, April 26, 2015. A total of 230 passengers stranded in the quake-hit Nepal returned home by China Eastern Airlines flights on Sunday. [Photo/Xinhua]
BEIJING - China is organizing emergency aid for Nepal while trying to bring Chinese citizens home, following an 8.1-magnitude quake there.
A total of 683 Chinese tourists were stranded in Nepal following Saturday's earthquake, according to the China National Tourism Administration (CNTA).
A 62-member search and rescue team, plus six dogs, has gone to Nepal's capital Kathmandu, according to the China Earthquake Administration. Their plane is loaded with 20.5 tonnes of relief materials and will bring some Chinese tourists home on its return trip.
At the request of the Chinese embassy in Nepal, China Southern Airlines dispatched an extra aircraft on Sunday to pick up tourists. The airline's three Sunday flights are expected to bring back more than 300 of Chinese and foreign tourists. Air China, China's national airline, is expected to bring another 195, while China Eastern has already brought back 230.
So far, the Chinese airlines have successfully carried out 7 round trips on Sunday, according to the Civil Aviation Administration of China (CAAC). But a powerful 7.1-magnitude aftershock in the afternoon have led to a temporary shutdown at the international airport, which has forced three Chinese planes to turn back on their way to Nepal.
The CAAC said altogether 10 planes are still waiting to depart China to pick up stranded tourists on Sunday.
Over 2,000 people are now believed to have been killed in Saturday's earthquake and the death toll is expected to continue to rise. Some 5,000 people were injured.
The quake and its aftershocks also affected some parts of China's Tibet autonomous region, adjacent to Nepal. Following the quake in Nepal, a 5.9-magnitude quake shook Xigaze at 5:17 pm Saturday, and a 5.3-magnitude quake shook Nyalam County at 1:42 am Sunday, according to the China Earthquake Networks Center.
Rescuers are braving heavy snow and rain to reach the affected area, and their efforts are hampered by severe landslides on the road to Nyalam.
Snow will persist in Tibet till Monday, adding extra pressure to the rescue work, according to a forecast by the National Meteorological Center (NMC).
Death toll in Tibet stands at 18, local authorities said on Sunday. A total of 53 people were injured and about 12,000 have been evacuated.