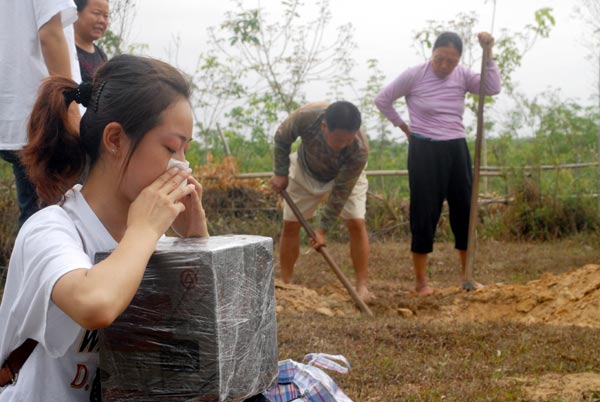 A woman buries her dog in Ding'an county, Hainan province, in 2010. Peng Tong / for China Daily
"You will never be alone. Your family will love you forever," reads an engraving on a tombstone in the northern suburbs of Beijing.
A 70-year-old woman surnamed Li sweeps the tomb, but it is not dedicated to a relative; it is the final resting place of her dog, which died five years ago.
The tomb is surrounded by plastic flowers and snacks, and a photograph of the dog is pasted on the tombstone. Its name was Nini, and it was the family dog for 18 years.
Like many other pet owners in China, Li spent more time with her dog than her children, "since they were busy with their jobs".
"I miss Nini," Li said. "She was our spiritual sustenance."
The family is delighted with the peaceful plot at Baifu Pet Cemetery.
The administrator, Zhang Youwang, said the cemetery offers a range of services including cremation, burial, tombstone inscription and memorial services. They have buried more than 3,000 dogs, cats, rabbits, lizards, tropical fish and tortoises.
The cemetery was founded by a member of the China Small Animal Protection Association in 2002.
The association says China has 170 million pet cats and dogs. With an average death rate of 5 percent, 8.5 million pets die each year.
The tombs are similar to those dedicated to people. They are made of marble or concrete, and can cost tens of thousands of yuan.
Each tomb has a 30-year lease, with a fee paid annually.
"The urns range from 100 yuan ($16) to 1,000 yuan, and cremations cost from 400 yuan to 600 yuan," Zhang said.