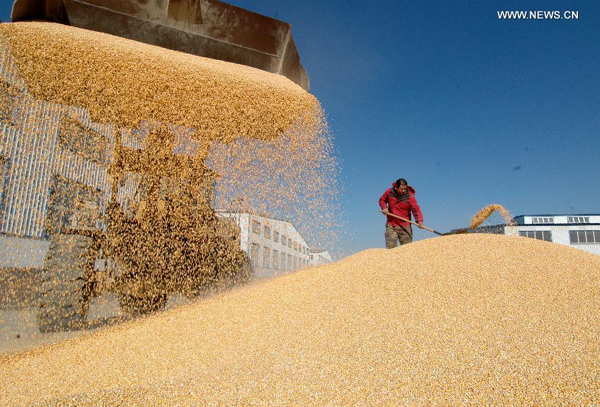 An employee of the Qilihe National Grain Depot airs corn in Yixian county, Jinzhou city, Northeast China's Liaoning province, Nov 13, 2014. [Photo/Xinhua]
Opinions: Corruption in grain storage SOE should never be ignored
Journalists have recently found that Sinograin storage managers in Liaoning and Jilin provinces have been embezzling public funds by conspiring with illegal grain merchants to put cheaper, previously harvested grain in storage but paying the price of freshly harvested grain to merchants. Comments:
Reports show that the trick is common in these provinces; therefore what is needed is to not only probe the cases and punish the responsible officials, but also improve the management of national grain storage. Currently the industry is monopolized by Sinograin, which operates in a black box without any external supervision. Why not learn from developed countries and allow non-SOEs, social organizations, even farmers, to store surplus grain, and purchase the grains from them when needed? The State can set an upper limit to their prices to protect public interests. That will break the monopoly and nip corruption at the root.
Beijing News, April 19
The once rampant corruption has been curbed a little since the top leadership launched the anti-graft campaign in 2012. However, the cases in Liaoning and Jilin show corrupt officials are still finding ways to abuse their power. It is necessary to keep up the high pressure on corruption, and encourage the public to report it, so that better-hidden corruption be discovered and stopped.
Beijing Times, April 19
When fire ruined Sinograin storages in Heilongjiang, another northeastern province, in May 2013, Sinograin promised to punish the officials responsible and instigate reform to prevent similar incidents. Last September, a central inspection group warned that corruption was quite rampant in the company, and they continued to promise change. Now more corruption involving the company has been uncovered and Sinograin has made a similar promise again. The facts prove that "internal supervision" in powerful SOEs cannot prevent corruption, and more external supervision is obviously needed.
cjn.cn, April 19
There have long been reports about corruption involving Sinograin, but they have never been seriously dealt with. Had the recent cases in Liaoning and Jilin not been reported, Sinograin might have continued resisting an anti-graft probe. Under high pressure, the Sinograin authorities have finally agreed to a probe and we expect disciplinary agencies to get involved and make everything clear.
CCTV News, April 18