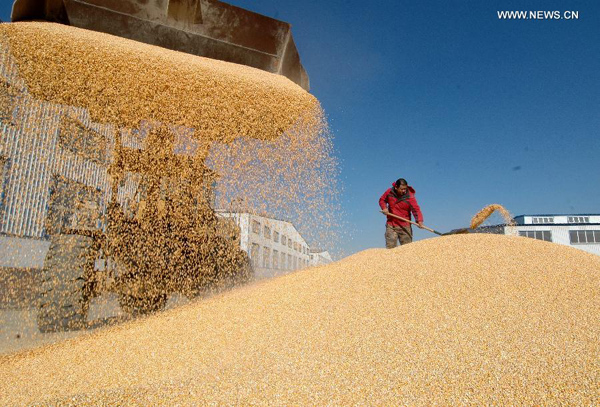 An employee of the Qilihe National Grain Depot airs corn in Yixian county, Jinzhou city, Northeast China's Liaoning province, Nov 13, 2014. China's grain output expanded 0.9 percent from last year to hit 607.099 million tons in 2014, marking 11 years in a row of grain production increase, the National Bureau of Statistics said on Dec 4, 2014. [Photo/Xinhua]
BEIJING - China will continue to increase its grain storage capacity in 2015 in an effort to ensure food security, a top official said on Thursday.
The country will build new grain-storage facilities and help farmers improve grain storage conditions, Ren Zhengxiao, head of the State Administration of Grain, said at a national conference.
However, Ren did not provide any specific target for expanding storage capacity.
The country's national grain stocks have stayed at high levels due to 11 years of bumper harvest and a large volume of government purchases, and it is important to ensure their quality and safety, Ren said.
China imposes a national grain purchase and storage scheme to adjust total grain supply, stabilize the grain market and create reserves for natural disasters and other emergencies.
According to official figures, at least 35 million tons of grain were wasted in China every year due to poor storage facilities and transportation conditions. Annual output was 607.1 tonnes in 2014.