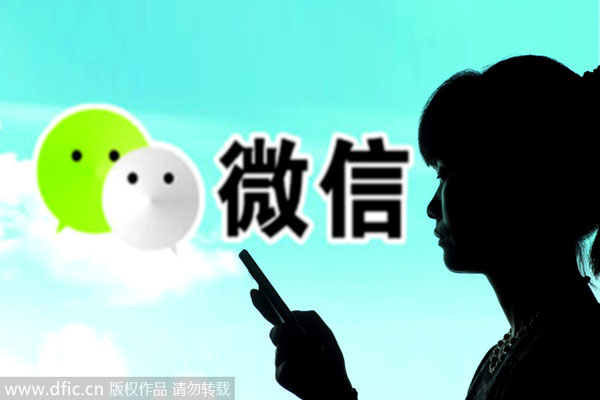 A Chinese woman uses her mobile phone in front of an advertisement for mobile messaging app Weixin, or WeChat, of Tencent in Shaoyang city, central China's Hunan province, March 31, 2013. [Photo/IC]
Internet giant Tencent Holdings Ltd may be facing a lawsuit from a pharmaceutical company based in Hainan province for allowing the spread of false information via its instant messaging platform WeChat.
In July, a WeChat post claimed that a medicine known as nimesulide granules, produced by Hainan Honz Pharmaceutical Co Ltd, had caused at least four deaths.
The drug is intended for the treatment of ear, nose and throat infections.
In early August, Honz reported the case to the local public security authorities, which determined that the rumor was false.
In December, Honz posted on its official WeChat account what it said was an apology from the source of the rumor as well as the case description from the local police to refute the rumor, but this move had little effect.
It then served notice on Tencent, urging the latter to delete, screen out and break the links of the false information, but it said it received little positive response from Tencent. The drug firm visited the headquarters of Tencent in mid-December to negotiate, it said, but was disappointed again.
As a result, Honz filed a lawsuit against Tencent. Haikou city's Xiuying District People's Court has put the case on record, the pharmaceutical company said on its official website on Tuesday.
Tencent told China Daily on Thursday that it had not received any legal claims.
Since the rumor spread on the Internet, sales of nimesulide have been heavily affected, as have sales of other medicines under the same brand, Honz told China Daily.