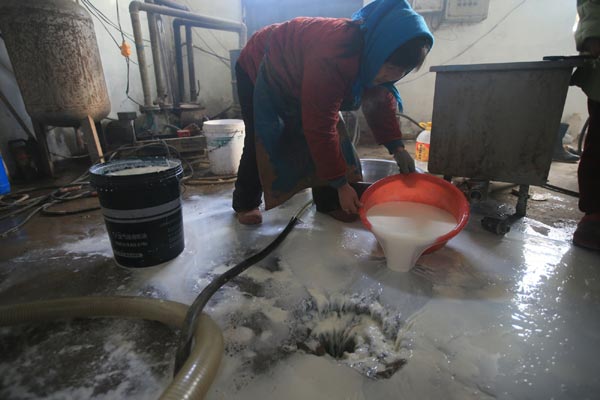 A farmer in Yanqing district of Beijing pours milk down the drain on Wednesday. The Ministry of Agriculture plans to offer more subsidies to dairy farmers who have been suffering from plunging milk prices. [Photo/China Daily]
The Ministry of Agriculture is launching a series of urgent measures to help dairy farmers who have been suffering from plunging milk prices.
According to an internal circular released by the ministry on Wednesday, with increasing numbers of dairy processing companies cutting or halting collections of fresh milk, farmers in some regions have been pouring milk down the drain or even killing their dairy herds.
The circular is instructing poultry and farming departments at all levels to develop urgent measures to help dairy farmers sell their fresh milk.
The ministry said it is urging dairy processing companies to closely monitor their sales of fresh milk and plans to offer subsidies to dairy farmers.
Local governments are being asked to offer credit financing to farmers who have been affected by the slump in demand.
The circular also asks local level departments to set up reporting systems to record volumes of dairy products being declined, collected, or poured away.
Dairy analyst Song Liang said producers are increasingly setting up their own dairy farms to better monitor and control their sources of milk, meaning smaller and medium-sized dairy farms, or individual dairy farmers are gradually being eliminated.
Li Shengli, chief scientist of the National Modern Dairy Industry Technological System and a professor at the China Agricultural University, said the price of fresh milk has dropped 11 percent at some large-scale farms and the decline was getting worse.
Li blamed the falling prices on rising imports of milk powder and high inventories of other dairy products.
In Shandong, Hebei and Heilongjiang provinces, particularly, many farmers are finding it increasingly hard to get their milk collected and many are being forced to pour it away.
Li said China's dairy consumption should be dominated by pasteurized milk and not high-end milk products.
"Milk should be considered a daily product for every consumer and not carry any super-nutritional labels."
According to figures from the National Bureau of Statistics, China imported 1.49 million metric tons of dairy products during the first nine month of last year, a 36.5 percent rise. Liquid milk imports accounted for 246,000 tons of that, up 70.8 percent.