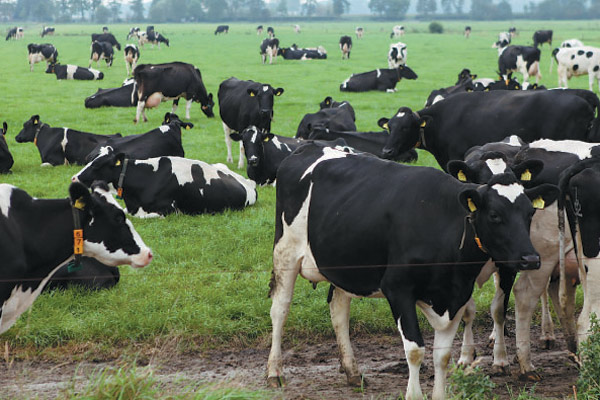 The Netherlands' Royal FrieslandCampina hopes to revolutionize China's dairy production industry as it seeks to significantly upgrade its presence in China through a joint venture with dairy company Huishan. [Cecily Liu / China Daily]
Royal FrieslandCampina bets big on 'grass to glass' approach in China
The biggest dairy company in the Netherlands says it hopes to revolutionize China's dairy production industry with its "grass to glass" approach.
"The Chinese market is very important to us," says Chief Executive Officer of Royal FrieslandCampina, Cees't Hart. "We are aiming for $1.26 billion of sales in China."
The company is well established and is now taking a different approach to the market through a joint venture, Hart says.
The 135-year-old company has grown through mergers and acquisitions, and its present incarnation is the result of a merger of Royal Friesland Foods and Campina in December 2008.
It had revenue of 11.4 billion euros ($14.25 billion) last year.
FrieslandCampina, which has marketed its products in China since 1992, strengthened its presence in the country in 2008 through a Shanghai subsidiary. It now wants to significantly upgrade its presence through a joint venture with the Chinese dairy company Huishan.
Discussions began this year, and it is expected that the new joint venture would produce, market and sell high-quality infant milk formula in China, and that the partners would operate an infant milk formula supply chain.
In addition, both companies would continue to run their existing infant milk formula businesses separately.
Under such a partnership, Huishan would provide high-quality raw milk from its dairy farms in China to the joint venture and the joint venture would produce and market infant milk formula.
Huishan, with headquarters in Liaoning province, has about 30,000 hectares of farmland for alfalfa and other feed crops, and operates more than 50 dairy farms housing China's largest Jersey cow herd and second-largest Holstein cow herd.
China's dairy product sector is rapidly growing. The industry and market research consultant Frost & Sullivan says that retail sales of liquid milk in China rose from 87 billion yuan ($14 billion) in 2008 to 144.8 billion yuan last year, with a compound annual rate of 10.7 percent
Sales of dairy products are expected to climb to $46.5 billion by 2016, up 66 percent from 2011, the market research firm Euromonitor International says.
However, one challenge facing the industry in China is a lack of consumer confidence in product safety. In 2008, six Chinese infants died and tens of thousands were hospitalized after drinking domestically produced milk powder contaminated by melamine.
FrieslandCampina hopes to introduce techniques that monitor the quality of milk at every stage of production, an approach known as "from grass to glass".