Jilin province is pressing ahead with plans for a cross-border high-speed railway linking the city of Hunchun with Vladivostok in Russia, provincial officials have disclosed.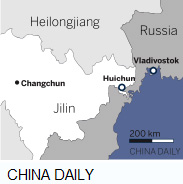 The project has been included in the provincial government's economic development agenda, according to a news release.
"Hunchun supports the provincial government's plan for a high-speed railway and is willing to cooperate with the Russian authorities on the project," Hao Qiang, a publicity official who spoke on behalf of the city's development and reform bureau, told China Daily.
Jiang Chaoliang, Jilin's governor, said in February that the railway will boost trade between Jilin and Russia and enhance links with northeast Asia.
Hunchun, on the border with Russia, is 180 kilometers from Vladivostok, but it takes more than five hours to travel one way by car because of the poor condition of the roads.
The Siberian Times said the 250 km/h line would slash the journey time to about an hour. The newspaper reported that city officials in Vladivostok have discussed the project's feasibility with their Chinese counterparts from the prefecture.
More than 1,000 Russians travel to Hunchun every day for business or shopping, according to official statistics. The rail link will carry tourists, business travelers and Russians who like to shop in Hunchun, the provincial government said.
"The line will substantially increase trade and business activities between the province and the Russian Far East," said Jin Shuoren, a provincial lawmaker and head of the entrepreneurs' association in the Yanbian Korean autonomous prefecture.
"In addition to the railway, the government should also improve the cross-border highways to improve transportation efficiency."
Hunchun is administered by the Yanbian Korean autonomous prefecture. The Hunchun-Makharino Railway is the only rail line between Jilin and Russia, and is one of three linking China and Russia.
"Of course we do want to see that an investor is found and the link is built," Evgeny Kozub, a spokesman for the Vladivostok city government, told The Siberian Times. "We all definitely understand the importance of this project."
Experts say there is huge potential for China and Russia to cooperate over rail projects and in related sectors.
"China has a lot of advanced technologies and experience in constructing and operating railways, and its government is willing to export them," said Yang Hao, a professor of rail transportation management at Beijing Jiaotong University.
"Russia wants to improve rail services and upgrade its infrastructure, so the two can find a lot of opportunities for cooperation in this field," Yang said.