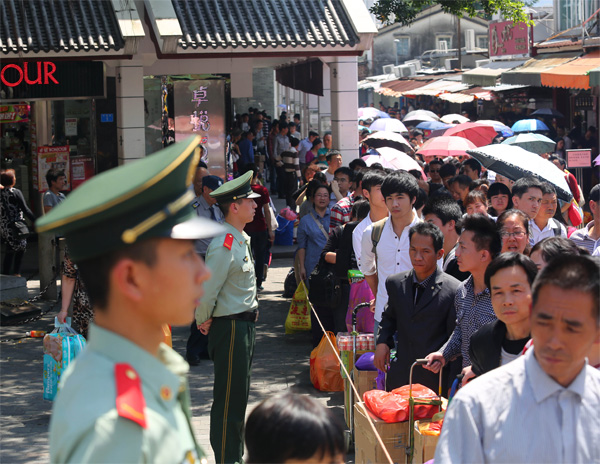 Shoppers and visitors wait on Chung Ying Street in Shenzhen, Guangdong province, on Tuesday. The border street runs between Hong Kong and Shenzhen. Li Jianfan / for China Daily
A border street running between Hong Kong and eastern Shenzhen has seen an influx of shoppers and visitors since a new policy restricting travel took effect this week.
About 12,000 people a day from the mainland requested a special travel pass to visit Chung Ying Street, known for its parallel trading activities. The number of visitors and shoppers reached 14,000 on Sunday, rising 12.7 percent year-on-year.
The new policy reduces visits by Shenzhen residents to Hong Kong to once a week. The goal is to crack down on parallel trading activities, Chief Executive Leung Chun-ying said.
"Parallel traders" buy their supplies in Hong Kong, which does not charge a goods and services tax, and then sell them on the mainland in small quantities to avoid paying import duties. The trading focuses mainly on packaged foods, infant products, cosmetics and personal care items.
Previously, Shenzhen residents would cross the border many times a day or week carrying commodities back to the mainland.
On the Shenzhen side of Chung Ying Street this week, traders with large and small carts gathered, nearly occupying a whole square and selling their Hong Kong goods. In the inspection hall, scores of people carrying empty carts lined up, waiting to enter the border area to shop.
Although Shenzhen residents now have fewer permits to travel to buy products in Hong Kong, sellers in the Hong Kong commodity shops say their businesses have not suffered.
"The new 'one visit per week' policy has had little influence on our business so far," said a shopkeeper surnamed Yu. "The business is almost the same compared with last week. Probably, the effect of the policy has not appeared yet."
Apart from parallel trade, counterfeit products are commonly sold on the border street. Hong Kong Customs found more than 1,300 suspected infringing products on Tuesday, including handbags, wallets, perfumes, mobile phones, watches and about 45,000 cigarettes, valued at HK$420,000 ($54,180).
sally@chinadailyhk.com