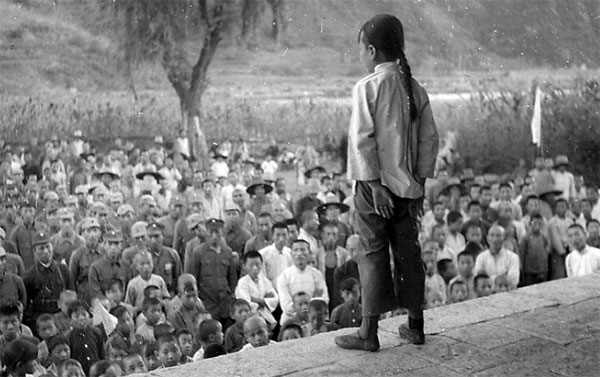 The head of the Children Resistance Regiment attends a public gathering in Pingxi, 1939.
Going home
Two of Lindsay's three children with Li were born during their time in Yan'an - first Erica in 1942, then James in 1945, just months before the Japanese surrender.
After the war, the family moved to England, where upon his father's death the economics professor became the second Baron Lindsay of Birker, making Li a baroness and the country's first Chinese-born peeress.
After a stint teaching in Australia, Lindsay and his family settled in the US, where he died in 1994. He made only a few low-profile visits to China after the war, mostly in the role of an economist and scholar of international relations.
It is only recently that Lindsay - or Lin Maike, his Chinese name - has begun to gain attention on the Internet in China as an unsung hero, largely thanks to the touring photo exhibition now at Renmin University.
Today, more people are hailing him as a rare internationalist who helped the Chinese people through their most difficult time, and recorded their hardships and bravery.
Lindsay was a special figure in the Communist Party of China's history, for his "selfless and outstanding contribution" to the resistance, Zhang Baijia, former deputy director of the CPC Central Committee's Party History Research Center, said at a recent symposium on the sidelines of the exhibition.
"He was also wise to stay out of the complicated politics in this country (in the post-War years)," he added.
The photos on show in the exhibition, which Lindsay took mainly during his years at Jinchaji and Yan'an, offer "a fairly objective perspective" about World War II in China, according to Luo Cunkang, vice-curator of the Museum of the War of the People's Resistance against Japanese Aggression, in Beijing.
It was a national war led by the Kuomintang government of the time, but the CPC played an active and creative part, said An Ran, secretary-general of the China Foundation for Protection of Historical Relics.
Huang Xingtao, a history professor at Renmin University, agreed and added that the CPC succeeded in sustaining the resistance in occupied regions in north and northwestern China.
Commenting on the photos, professor Lu said they hold "precious value" because they carry the wartime memories that no Chinese can afford to forget.
Contact the writer at cuishoufeng@chinadaily.com.cn
Luo Wangshu contributed to this story.