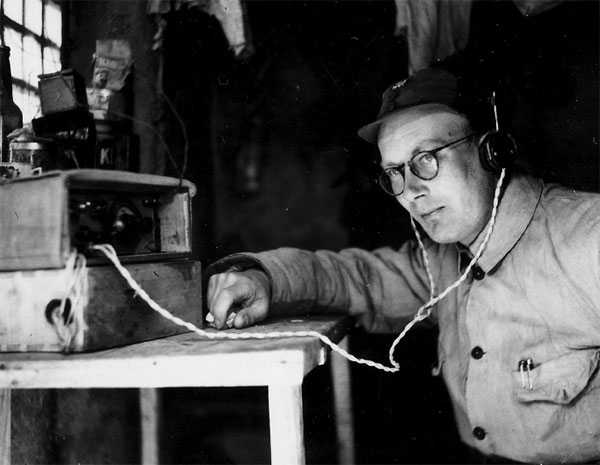 Michael Lindsay tunes a radio receiver at the Jinchaji base in Hebei province sometime between 1941 and 1944. Provided to China Daily
This is the second in a series of special reports about the experiences of foreigners who either lived or served in China between 1937 and 1945. Here, a photo exhibition is shedding light on an economist, radio expert who aided guerrilla forces, Cui Shoufeng reports.
Michael Lindsay arrived in China in 1938 intending merely to teach Keynesian economics. Instead, he was inspired to play a crucial role in the country's resistance against the invading Japanese forces.
The Englishman, now the subject of a photographic exhibition that has visited several Chinese universities, helped to smuggle vital supplies to guerrilla fighters during World War II and spent years behind enemy lines, where he even started a family.
War had already broken out by the time Lindsay, an Oxford College graduate and former student of groundbreaking economist John Maynard Keynes, arrived in Beijing to take up a lecturing post at Yenching University, later renamed Peking University.
The Japanese imperial army's invasion of northern China began in July 1937, and three months later the first village massacre was reported in nearby Hebei province, then known as Hopei.
In the occupied Beijing, Lindsay had become "distressed by his students' stories of the way they were treated by the Japanese police at the city gate", his granddaughter, Washington-based scholar Susan Lawrence, said in December when the exhibition opened at Shanghai Library before moving to Beijing's Peking University and now Renmin University of China, which hosts the show until April 17.
Her grandfather also witnessed firsthand appalling actions by the occupying forces, she said.
The economist was just 28 at the time, yet he was forced to make a life-or-death decision: flee the country or join the fight.
In the spring on 1938, Lindsay learned of a resistance movement forming outside Beijing and, at the first opportunity, traveled with some colleagues to the communist-led Jinchaji base, named after the area straddling Hebei and Shanxi provinces.
Inspired by what he saw, he returned to the capital and began to help the guerrilla forces in his spare time by sending supplies through secret channels, the most important of which were medicine and radio parts.
Due to his foreign appearance, "although the occupation troops might have had their eyes on this young Englishman, they couldn't search him at the city gates like they did to all the locals", according to professor Tonglin Lu at Shanghai Jiao Tong University's School of the Humanities, an authority on foreigners involved in the Chinese resistance during World War II.
He enlisted the help of one of his students to relabel in Chinese the items he bought, to avoid the stores where he purchased them facing any backlash if Japanese soldiers ever intercepted a shipment. That student was Li Hsiao Li, who later became his wife.
Li was the daughter of a retired army colonel and had intended to study in Nanjing, capital of Jiangsu province, before the Japanese invasion forced her to change her plans and gain admission to Yenching University.