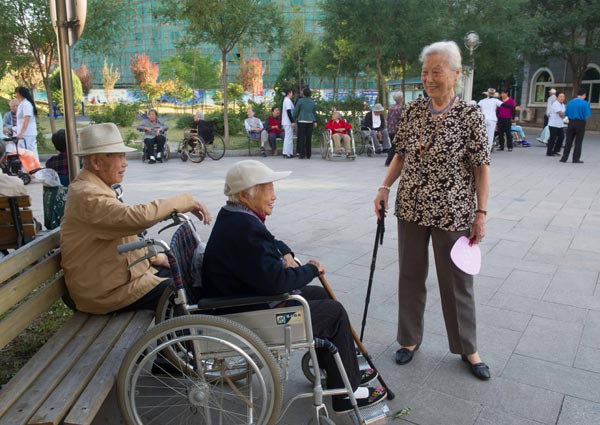 Senior citizens chat at a retirement home in Beijing. [Photo/Xinhua]
BEIJING - China announced detailed standards of occupational pension for government employees on Monday as a move to build a multi-level and sustainable pension mechanism.
The welfare fund, as a supplementary part of the basic pension system and commercial insurance, will require a government department to pay 8 percent of its total salary amount and a government employee to contribute 4 percent of one's taxation-based salary, according to an announcement released by the State Council, China's cabinet.
The benchmark of payment base is the same with that of the basic pension and the fund sources also include related investment yield and other legal contributions.
The fund will be left to qualified institutions such as securities houses, asset management companies, insurers to manage the pension and conduct investments.
The introduction of occupational pension is expected to retain talents as recent reforms in the basic pension system for government institutions might compromise their employees' welfare.
China started pilot reform programs in government organizations to require them pay social insurances and pension fund like other private employers in 2008 to promote social fairness. Before that government employees only had to pay income tax.