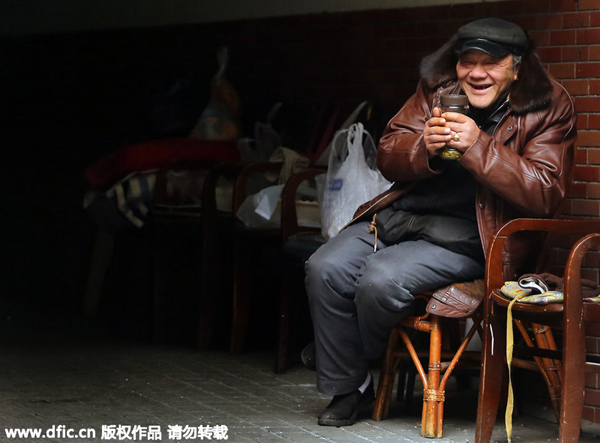 An elderly man sips tea and sits on a warm afternoon in Shanghai, Feb 2, 2015. [Photo/IC]
A top social security official said on Wednesday China will extend people's working age to 65 "step-by-step" to make up for a possible pension fund gap in the near future.
Hu Xiaoyi, vice minister of Human Resources and Social Security, said the move is to widen the source of the pension fund. The dependency ratio is an age-population ratio of those in and outside the labor force. It is used to measure pressure on the productive population.
The ratio in China's underdeveloped areas is greater than in developed ones with the highest 0.7 and the lowest 0.11. That means one productive person has to support the pension for 0.7 dependent people on average in the country's most dependent areas.
The ratio now is, on average, 0.33 but is expected to increase to 0.77 by 2050 if the current retirement age of 60 were to continue.
According to Hu, China raised 2.53 billion yuan in pension income while spending 2.17 billion last year. "That does not mean we will always make ends meet. We must get ready for rainy days," Hu said.
Statistics reveal 14.9 percent of China's population was aged above 60 in 2013, growing to 15.5 percent last year. By 2050, the number will surge to 38.6 percent.
According to Yin Weimin, minister of Human Resources and Social Security, the average age of 80 million pensioners retiring from enterprises in China is 54. The retirement age in some developed countries is between 65 and 67.
The ministry will submit the plan to the state council this year for adoption in 2022. It is not a single five-year extension but a long process.
"By 2022, a man born in 1962 will have to work for a few more months rather than retire," the minister said earlier.