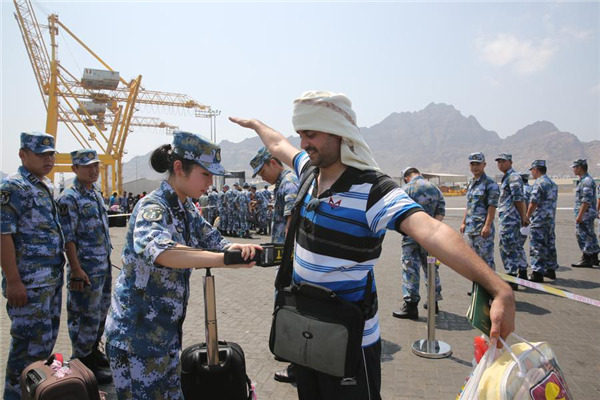 An evacuee passes through a security screening before boarding the Chinese Linyi missile frigate in Aden Harbor, Yemen, April 2, 2015. A total of 225 nationals from 10 countries who were evacuated from conflict-ridden Yemen arrived in Djibouti onboard the Chinese frigate on Thursday. [Photo/Xinhua]
BEIJING -- China's evacuation of foreigners from Yemen is a special rescue mission based on humanitarianism and has been performed at the request of relevant countries, said a spokesperson from the Foreign Ministry on Friday.
Spokesperson Hua Chunying told a daily press briefing that the special rescue efforts by the Chinese government to evacuate foreign citizens embody the government's people-first principle and the spirit of internationalism and humanitarianism.
According to Hua, China helped 10 countries evacuate 225 of their citizens in conflict-ridden Yemen on Thursday, including 176 from Pakistan, 29 from Ethiopia, five from Singapore, four from Poland, three from Italy, three from Germany, two from Britain, one from Canada, one from Ireland and one from Yemen.
China's Linyi missile frigate has evacuated the people and arrived in Djibouti safely. Chinese warships have also helped evacuate 8 nationals of Romania, India and Egypt while evacuating Chinese citizens.
Hua said the People's Liberation Army Navy dispatched warships to the Port of Aden immediately, and Chinese embassies and consulates in Yemen and Djibouti have made arrangements and worked to organize a safe evacuation.