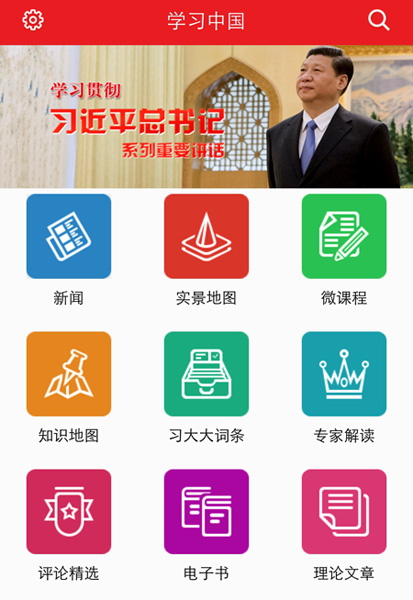 The homepage of the new app on Xi Jinping's works
A mobile app has been released that provides free access to the complete writings of President Xi Jinping, including all his e-books and speeches. It is the first time the top leader's complete works have been made available on phones.
The app displays a list of his books published over the past 22 years.
Xi's first book, Poverty Eradication, published in 1992, when he was the top official in Fuzhou, Fujian province, and his latest one, The Governance of China, published in September in several languages, are available through the app.
It also gives users access to two of Xi's books published when he was Party chief of Zhejiang province from 2002 to 2007.
One of these, Zhijiang Xin Yu, or New Visions for Zhejiang province, was published in May 2007 and became a bestseller last year.
It is a collection of Xi's 232 short commentaries published in Zhejiang Daily from February 2003 to March 2007, most of which are intended to advise local public servants to work in a down-to-earth manner.
The app was developed by an online learning website of the Party School of the Central Committee of the Communist Party of China.
Chen Jiancai, the site's deputy editor-in-chief, said the app is based on a database about Xi and has a tool that enables users to search the time, location or occasion of any of his speeches.
"Apart from the free books and speeches, the app also includes commentary on Xi's works," Chen said.
Referring to the talent pool of theorists at the Party School, Chen added that more comments from professionals will be included on the app later.
A number of students at the school are studying Xi's lectures through the app. It is hoped that it will attract more people to study Party theories and enable the public to access them easily.
zhang_yi@chinadaily.com.cn