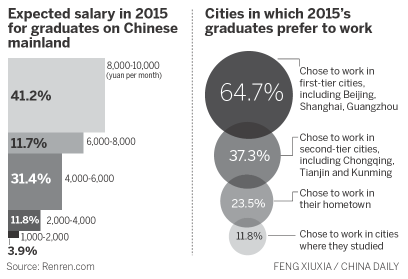 Students face a fiercely competitive job market but aren't adjusting expectations, survey finds
With a record 7.49 million students graduating from China's universities and colleges in July, the job market is expected to be fierce. However, the majority of prospective graduates have not slashed their job expectations, according to a recent survey.
The survey, conducted by Renren.com, a Facebook-like social networking website in China, found that 41.2 percent of prospective graduates have a salary expectation of 8,000 yuan ($1,290) to 10,000 yuan per month. Meanwhile, 11.7 percent want 6,000 to 8,000 yuan, and 31.4 percent want 4,000 to 6,000 yuan. Only 11.8 percent expected 2,000 to 4,000 yuan.
The survey polled 1,510 prospective graduates. Fewer than 100 days remain before graduation, and finding a decent job is the most pressing need for most Chinese students.
Li Xiaoxiao, a graduate-to-be majoring in law at Fudan University, is still looking for a satisfactory job in Shanghai. The minimum salary for her first job should be 6,000 yuan, she said.
"It would be very hard for me to live if I found a job near Lujiazui, a financial district of Shanghai, if you consider the cost of eating, renting an apartment, transportation and social activities," said Li, 25, from Fuzhou in Fujian province.
"I won't say I take a salary standard as the first consideration when I am looking for a job. But I think I have to support myself," she added.
Shen Yiren, who is conducting campus recruiting for mobile phone company OPPO in Shenzhen, said the salary expectations have a reasonable basis, but job seekers still must adjust their expectations to their capabilities and the local job market.