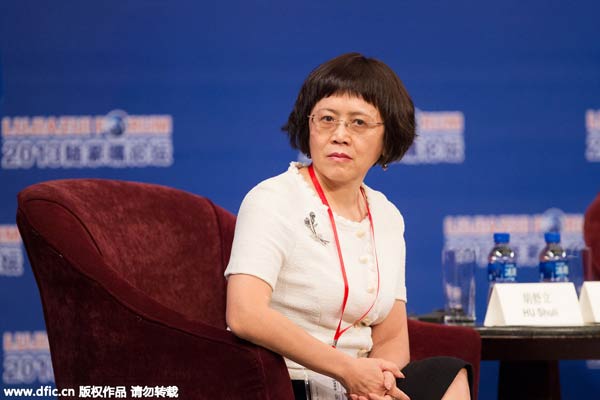 Hu Shuli, editor-in-chief of Caixin Media, the leading Chinese business and financial weekly.[Photo/IC]
Caixin Media, the leading Chinese business and financial weekly, said on Monday that it has contacted the police and will pursue a defamation claim against a tycoon who it says fabricated and spread rumors to undermine its credibility and harm the reputation of its editor.
Caixin said on its micro blog at noon on Monday that Guo Wengui, the real estate businessman from Henan province, damaged its media credibility and insulted its editor-in-chief, Hu Shuli, by fabricating facts and spreading rumors online.
Guo, 48, who holds a controlling share of Pangu, the Beijing-based real estate development company, posted an open letter via the corporation's micro blog on Sunday night claiming that many media reports involving him were untrue and that Hu had an improper relationship with Li You, former CEO of Founder Group. The open letter was removed from the company's micro blog account later on Monday.
Li, along with three other executives of the group-created in 1986 by Peking University-was reportedly under investigation in January, according to the company's website, which also said its board of directors had elected three new members to replace the investigated ones.
Guo's letter claimed that the 62-year-old Hu is the mistress of the 49-year-old Li and that the two had a child. A name and identity card number was listed for the alleged child.
Guo also claimed that Hu took advantage of the relationship to illegally benefit from Li's company, and that Li intended to invade Guo's private properties.
"I refused to have dinner with Li and Hu several times after I met Li in May 2013. But during talks between us, Li told me that Hu also had improper relationships with some other officials," Guo said in the post.
Caixin reported that Guo framed six people and caused them to be punished. Guo denied this, saying the articles were untrue and that he did not knew the individuals.
"Hu dispatched journalists to my hometown to investigate my dead grandparents and said I had a young brother who I never heard about, which has damaged my privacy," he said, adding that all of Caixin's reports involving him were aimed to hold him up to public ridicule.
Caixin replied in its statement that Guo's online letter constituted defamation under the law, saying it has taken action to keep the information he posted as evidence and will accuse him in the legal system.
People's reputations and dignity are protected under Chinese Civil Law, and those who defame or insult others in a public or violent way can face a three-year jail sentence under the Criminal Law, the statement said.
Guo, started his business in Henan and entered the real estate market in Beijing in 2002.
He allegedly fled overseas to avoid investigation but was taken back to China.