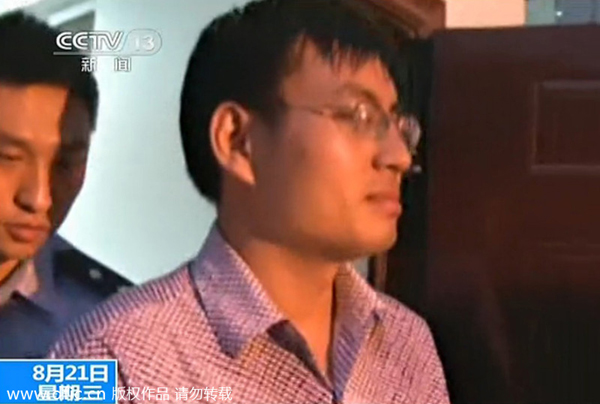 A still image shows a police officer escorting Qin Zhihui, right, in this screen grab from CCTV on Aug 21, 2013. [Photo/icpress.cn]
Qin Zhihui, better known by his online name, Qin Huohuo, on Friday pleaded guilty that he made rumors online.
The trial of Qin, accused of using the Internet to spread rumors, began in a Beijing court at 9 am on Friday.
Qin was charged with fabricating 3,000 rumors in three years.
Last year, Beijing police smashed a company that allegedly made and spread fake information on websites for profit, and arrested Qin Zhihui and Yang Xiuyu, who in August were accused of fabricating online rumors and harming others' reputations, the Beijing Chaoyang District People's Court said in a statement on April 8.
They are also suspected of the crimes of provoking trouble and illegal business operations.
A police investigation found that Qin and Yang, posting under the handle "Lierchaisi," conspired to make up information to lure followers on China's equivalent of Twitter Weibo and influence opinion leaders online.
The deceptive information includes accusations that the government had granted 200 million yuan ($32.7 million) in compensation to a foreign passenger who died in a bullet train accident in 2011. The rumor was retweeted 12,000 times in two hours and provoked anger among Chinese Internet users.
According to the police, the suspects posted false information about Lei Feng, the country's most famous Good Samaritan, accusing the late model of leading a luxurious life. The post quickly spread online and was reported to the police by netizens.
The suspects also exploited in 2011 the Guo Meimei scandal, whereby a woman who claimed to head an organization linked with the Red Cross Society of China and posted photos online detailing her lavish lifestyle.
The scandal greatly damaged the charity agency's credibility and donations have plunged as a result.
Also, the pair allegedly started rumors that local civil servants must donate money to the red cross society and maligned the country's charity system.
Qin and Yang have confessed to police that netizens should be manipulated to believe that they are the "victims of social injustice" and only "anti-social activities could help them vent their dissatisfaction."
China has carried out a campaign since 2013 to crack down on online rumors, and government authorities said netizens should bear in mind basic moral principles and deter false information to create a sound cyber realm.