Guideline from State Council office says govt sites need to do job properly or face shutdown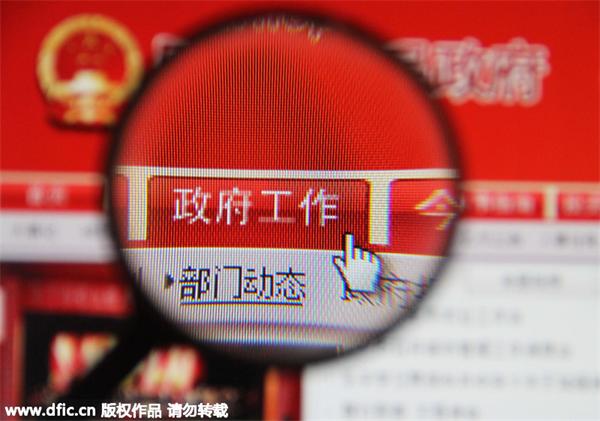 The website of a Chinese county-level government. [Photo/IC]
Central authorities moved on Tuesday to address four major concerns of the public about official government websites: that a website is not responsive, or that information is not delivered in a timely manner, or is inaccurate or not useful.
An evaluation guide for official websites, which was attached to a document released by the General Office of the State Council, said "zombie" or "sleeping" government websites that serve no one will be shut down.
A government website will be terminated if it misspells state leaders' names, fails to open, is not updated, publishes fraudulent or sexually explicit content or fails to respond to public inquiries within three months, according to a detailed evaluation guide for official websites.
The central government has begun its first nationwide effort to review and correct authorities' websites at virtually all levels in its latest move to improve administrative efficiency and transparency, according to the document.
For Tang Jun and his fellow social policy researchers at the Chinese Academy of Social Sciences, the need to impose accountability and require up-to-date statistics on government websites is a must. He said he has seldom been satisfied in the past.
"Sometimes I need an annual report from the year before, but in many cases I won't be able to see one online until September. Sometimes I won't get anything at all," Tang said. "I do hope the government will make sure important information is released in a timely manner."
His problem may be solved soon.
All government bodies above county level and all ministries and commissions under the State Council, along with their affiliated institutions, including those to which Tang usually goes for official data, will be covered in the review, which is expected to last until the end of the year.
Since the 1990s, the government has poured hundreds of billions of yuan into establishing websites at various levels. But many of them, especially at local levels, have become inactive and are never updated, according to Zhu Lijia, a professor of public management at the Chinese Academy of Governance.
"Now is the time to activate all these websites and put them into real use," Zhu said. "Premier Li Keqiang has promoted the delegation of powers to lower levels. These government websites at local levels should better serve the public with the powers they get."
Shi Anbin, a communications professor at Tsinghua University, said the examination will make the Internet a regular part of the system of governance.
"The current role of government websites is just a static information provider, without any dynamic work system," Shi said in a written reply to questions. "The governments do not pay enough attention to the role of their websites, treating them merely as decorations for their political image."
Shi said the government should make policies to encourage departments to pay more attention to the role of their websites, as the Internet's spirit of equality, participation and interaction could improve the current top-down political model.