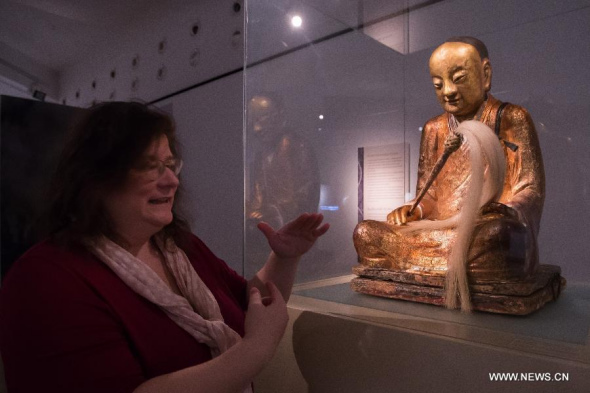 A Chinese Buddha statue with the mummified body of a Buddhist monk inside is on display at the Hungarian Natural History Museum in Budapest, Hungary on March 3, 2015. [Photo/Xinhua] 
Chinese and Dutch experts are calling on their respective governments to resolve an ownership dispute over a 1,000-year-old Buddhist statue containing a mummified Buddha, Xinhua News Agency reported.
The Buddhist statue, dating from the Song Dynasty (960-1279), may have been stolen from a Chinese ancestral temple in a local village, the report stated, citing China's Fujian administration of cultural heritage. However, Drents Museum in the Netherlands said the statue had been legally bought by an anonymous private collector in 1996, who then loaned it to the museum for research purposes a few years ago.
Cultural heritage protection and legal experts from both countries said there were no international conventions on cultural heritage retrieval that would apply to this case, but suggested the Chinese and Dutch governments carry out consultations and seek a diplomatic solution. This would be more pragmatic and convenient than carrying out civil lawsuits, according to Xinhua.
The statue has been removed from the Mummy World Exhibition at the Hungarian Natural History Museum in Budapest and sent back to the Netherlands at the request of Drents Museum, the Hungarian museum announced on its website last Friday.
Drents Museum has made no comment, though Xinhua reported an anonymous source from the museum saying that repatriation is possible if credible evidence is provided, under the common principle that historic human remains should be returned to their home. The legal process could be lengthy, however.