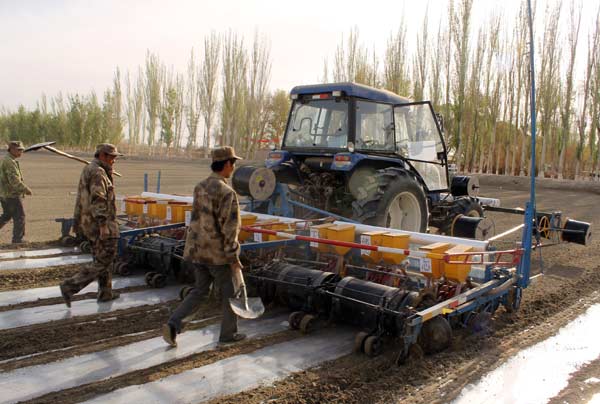 Extra-wide sheets of film are used in Alaer, Xinjiang, to reduce the amount of PE film used, and improve the land-utilization rate. GAO BO/CHINA DAILY 
Biodegradability
At the institute in Xinjiang, Wang Xinyong and his team have been looking into ways of reducing the environmental impact of PE film by using polyester and starch-based materials to produce plastic sheets that will biodegrade at a much faster rate.
According to Sun Jiusheng, a member of the research team, successful tests have been conducted using crops such as cotton, potatoes and tomatoes in the prefectures of Bortala, Changji and Aksu, and will soon be extended to a range of other plants. "Right now, we're trying to reduce costs and are applying for government subsidies so we can refine the material," Sun said.
"We knew that polyester film could be degraded, but it wasn't possible to accurately control the degradation period. We experimented by adding starch-based materials and eventually succeeded in doing that."
It took five years of experimental work in a 53,000-hectare cotton field in Bortala prefecture, but the team finally came up with a technique in which PE film was treated with a catalyst that accelerated the degradation process and shortened it to just 100 days. Although it's a promising development, the treatment is still undergoing tests and is unlikely to be available commercially anytime soon.
However, in 2012, the team started another round of experiments in a potato field in Baicheng, Aksu prefecture, and developed a formula for a coating that caused PE film to degrade completely within two years in the 40-hectare test area.
"First, the film breaks into tiny pieces, and degrades 80 percent in the first year. The remainder adheres to the soil, but doesn't harm the crops," Sun said.
Although the treated film, manufactured by a company in Guangdong province, has been available for some time, it hasn't been the success its creators had hoped. Once removed from the test site, the film underperformed because the degradation process was influenced by a number of unforeseen factors, including the type of crop under cultivation, temperature, humidity and soil salinity.
Now the research team is testing different formulas on different crops in the north and south Xinjiang.
If the problem can be ironed out quickly, the manufacturer will begin producing PE film treated with the new formula, according to Sun, who added that the team plans to open its own factories in a number of prefectures.
The treated film will be expensive to produce-40 yuan per kilogram, almost three times the cost of the untreated variety-but Sun is convinced it will be successful.
"Although the cost may be lower in full-scale production, we will still need government support, such as subsidies, to promote the film. However, this technology could be in widespread use within five years if the government gives it the backing it deserves."
Contact the writer at gaobo@chinadaily.com.cn