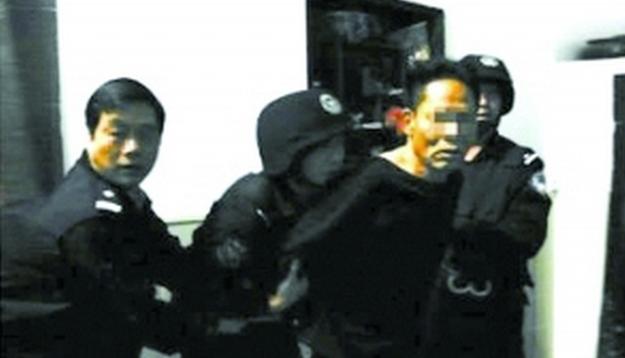 Peng Jiaxiang, second from right, is handcuffed during a police crackdown on fake money in South China's Guangdong province in this undated file photo. [Photo/xinhuanet.com]
Specialist lab plays key role in battle to defeat counterfeiters as number of seizures increases
More than 96 percent of the counterfeit money confiscated in recent years was printed using copies of original artwork produced by a forger in Shantou, Guangdong province.
Peng Daxiang, who is in his 70s, drew master artwork for the whole series of yuan bank notes.
He was jailed for life in 2013 after a major counterfeiting case, but copies of his drawings are still in use today, said Dong Yongxian, who is in charge of a laboratory that deals with fake money at the Ministry of Public Security.
A set of artwork for the 100-yuan note is worth more than 100,000 yuan ($16,000), Dong said.
However, no fake bank notes carry all the anti-counterfeiting features found on real notes, Xinhua News Agency reported.
Counterfeiters buy paper, stamp in the foil security line, print layers of colors, cut the paper and press the fake money manually or with a machine to add a sculptural feel.
Technicians who can produce colors that are very close to those used in real notes are highly paid.
There were two major cases involving more than 223 million yuan of fake currency in Guangdong last year. Printing continued around the clock and consumed a metric ton of paper a week.
Dong's lab, founded in 2011, tests fake money, analyzes counterfeiting methods, provides evidence for criminal investigations, monitors trends and issues warnings.
Similar work is carried out at three work stations in Tianjin, Guangzhou in Guangdong, and Yunnan province, and there are 13 monitoring posts.
Lab workers analyze the fibers of the paper to judge whether it comes from coniferous wood or broad-leaved wood. In addition, they study the nonorganic elements and humidity of the paper to identify where it came from to help the police in their investigations.