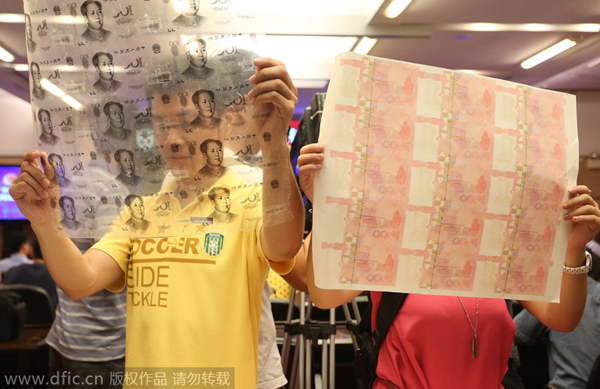 Staff members of Public Security show the film and pattern plates used to produce counterfeit banknotes seized from counterfeiters at a press conference in Guangzhou city, South Chinas Guangdong province, in this July 30, 2014 file photo. [Photo/IC]
The police across Guangdong province promised to intensify an ongoing crackdown on counterfeiting this year, according to an official statement.
The vow came after fake currency with a face value of more than 220 million yuan ($35 million) was seized when two major counterfeiting operations were raided in the eastern part of Guangdong province last year.
In the largest raid, early on Dec 30, the police detained seven suspects and seized fake money with a total face value of more than 130.5 million yuan in Kuitan, Huilai county. An earlier raid in Jieyang in June netted fakes with a face value of 92.7 million yuan.
In the December raid, more than 100 police officers swooped down on a counterfeiting operation, seizing the fake currency along with sophisticated equipment that included computers, printers, inks, pattern plates and many unfinished notes and stacks of paper, said Lin Yongzhong, a senior officer from the Jieyang Bureau of Public Security.
"The large amount of fake money might have been in circulation if the underground production base had been busted a week later," Lin said.
The raid was conducted after a six-month investigation. It broke up a major counterfeiting gang that had been active in eastern Guangdong, Lin said. The police were tipped off by local residents in June.
Police officers in Guangdong broke up 12 counterfeiting operations last year, according to data provided by the province, seizing currency with a total face value of more than 292 million yuan. A total of 117 suspects were detained in 64 cases.