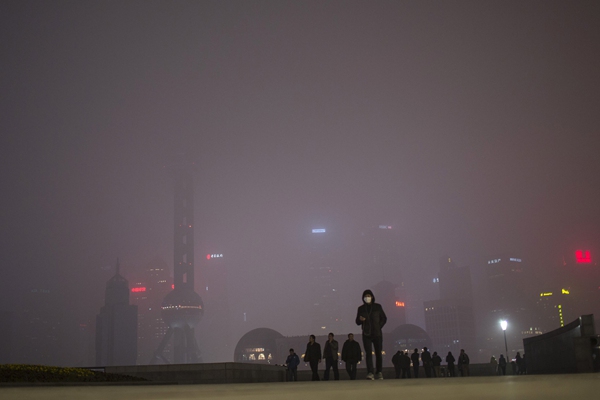 A man wears a face mask while walking on the Bund in front of the financial district of Pudong, during a hazy day in downtown Shanghai January 25, 2015. [Photo/Agencies]
But the government needs to do more to make the public clearly see the improvement in the environment, he said.
"Lowering PM2.5 levels by 20 percent means a huge reduction of its harm on people's health. But it won't bring along great improvement in the visibility of the air, and visibility actually is the main benchmark for the public to judge air quality," he added.
Public perception
Most Shanghai residents questioned on Tuesday said air pollution worsened in 2014, though monitoring data suggested there was an improvement of air quality compared with 2013.
"I didn't feel an improvement at all. We often saw a gray sky caused by the smog," said 24-year-old Yu Canglong.
In the action plan, authorities admitted that PM2.5 and air pollution remain prominent problems, despite the overall improving environment in the city.
For the upcoming three years, the government also vowed to reduce the number of highly polluted water bodies, raise forestation coverage from 13.5 percent to 15.5 percent, and build a sewage disposal system for 90 percent of waste water in urban areas.
On the national level, the country is set to focus efforts this year on fully implementing the revised Environmental Protection Law, which took effect on Jan 1.
No one must use his power to meddle with law enforcement, Premier Li Keqiang said on Sunday at a news conference following the closing of the annual session of the nation's top legislature.
"All acts of illegal production and emissions will be brought to account. We will make the cost for doing so too high to bear," he said.