Authorities say PM2.5 remains a big problem as it outlines 100 billion yuan action plan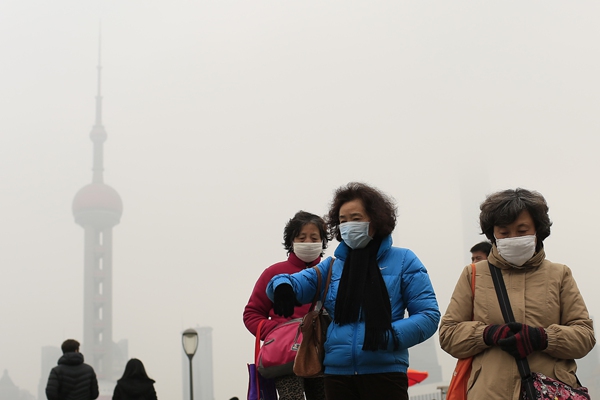 Woman wear face masks on the Bund in front of the Oriental Pearl TV Tower during a hazy day in downtown Shanghai January 26, 2015. [Photo/Agencies]
Shanghai plans to invest 100 billion yuan ($16 billion) in its environmental protection drive for the coming three years, while reducing the concentration of PM2.5 by at least 20 percent from the level in 2013.
Those are part of the targets the municipal government outlined in an action plan for the period between 2015 and 2017.
One of the highlights of the plan, released on Tuesday, is the increase of capital invested to improve the environment from the average of 21.3 billion yuan in the past 15 years to an average of 33.3 billion yuan committed for the upcoming three years.
Improvements in air quality, water and the ecology will be the focus of the plan.
Measures to fight smog, for example, include shifting the coal-burning boilers and industrial furnaces to clean fuels, transforming power generators to reduce their emissions, phasing out high-polluting vehicles and putting in place further control on dust at construction sites.
Those efforts are expected to help reduce emissions of sulfur dioxide by 20,000 metric tons nitrogen oxide by 40,000 tons and volatile organic compounds by 100,000 tons.
Yang Xin, a professor at Fudan University's department of environmental science and engineering, called the action plan practical, saying that the government is moving in the right direction to address the biggest concerns of the public regarding the environment.
"In 2014, we saw a big drop in the concentration level of PM2.5 from the previous year," he said. "That makes the goal of a 20 percent reduction by 2017 not that difficult."