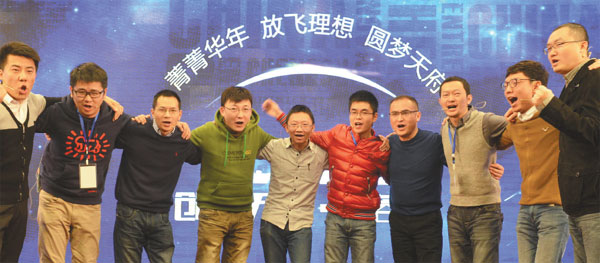 Pioneering innovators take part in the "Entrepreneurial Tianfu" program in Chengdu. Provided to China Daily
Chengdu, a hub city in southwestern China, expects to welcome more foreign companies as it forms closer connections to the outside world and increases business opportunities, Mayor Tang Liangzhi said.
As a transportation hub of the new Asia-Europe continental bridge, Chengdu has a solid logistics industry, favorable policies and promising market prospects, all of which make the city the most attractive place in southwest China for international businesses, Tang said.
"Just like a dense forest drawing birds, Chengdu has attracted 262 of the Fortune Global 500 companies," he said.
According to the local statistics bureau, foreign investment in the city reached $10 billion last year.
In December, Intel Corp announced it would invest $1.6 billion over the next 15 years to upgrade its semiconductor plant in Chengdu and introduce its latest advanced testing technology.
In the same month, Tesla Motors, a California-based electric vehicle design and manufacturing corporation, opened its second-largest sales center in Chengdu.
"Chengdu has an advantage that many cities in China don't have," said Charles Cheung, managing director and executive director of Dell China.
Founded in 2013, Dell's operation center in Chengdu has an area of 30,000 square meters, which can accommodate thousands of employees.
"Chengdu is a city with a long history and a variety of talents. With its growing advantages, from the humanities to the natural environment, it has become a new economic power in China's western cities," Cheung said.
"China is Dell's second-largest market in the world after the United States, and we also firmly support the Western Development policy of the Chinese government.
"As a key western city, Chengdu has always been the focus of Dell and the world, and we are fully confident in its future."
Cheung said Chengdu also plans to speed up the development of its cloud computing applications and industry in the country's 12th Five-Year Plan period (2011-15).
The plan is to have the value of the cloud computing industry reach 300 billion yuan within several years, making Chengdu one of the world's largest manufacturing bases of cloud services and end products. In 2013, Siemens' first oversea digital enterprise opened in Chengdu.
Marc Wucherer, president of Industry Sector Siemens North East Asia, said the importance of Chengdu in western China, backed by top-grade governmental support, human resources, logistics, traffic and infrastructure, provide a sound environment for Siemens to be based in Chengdu. "Currently, the logistics channel in Chengdu covers sea, air, trucks and railway transportation.
Among that, Chengdu-Europe Express Rail that began operation in 2013 offers the most convenient and stable channel linking China and Europe with the shortest travel time.
The express rail is expected to open return service in the first half of this year," Tang said. Chengdu Shuangliu International Airport is the largest in China's central and western regions, with 80 international routes linking the city to locations including London, Amsterdam, Frankfurt, San Francisco and Melbourne.
The Chinese government recently approved the construction of a new airport in Chengdu, which will make it the third city on the Chinese mainland to have a second airport, after Beijing and Shanghai.
The new airport is expected to go into use during China's 13th Five-Year Plan (2016-20), handling 40 million passengers a year by 2025 and 80 million to 90 million passengers a year after full completion.
"The city will continue to upgrade its logistics system, improve customs clearance efficiency and raise the standards of service, making it the regional logistics center of western China and a global logistics hub to Europe and Asia. Our ultimate goal is to build Chengdu into a cargo hub connecting the world," Tang said.
Tang said the national strategies to develop the Silk Road Economic Belt, the Yangtze River Economic Belt and Tianfu New Area offer Chengdu a historic opportunity to achieve industrial transformation and upgrading.
At the beginning of this year, Tang sent an invitation to entrepreneurs around the world, inviting them to share the city's opportunities and develop win-win cooperation. "We will provide entrepreneurs with greater development space, a better business environment and a more dynamic innovation atmosphere," he said.
Tang attaches vital importance to innovation and entrepreneurship as he believes that under China's "new normal" era of development, the economic growth pattern should change from being driven by production factors and investment to become innovation-driven, and innovation and entrepreneurship will be major driving forces to transform and upgrade the economic structure.
The city has the largest number of universities and colleges in western China, producing at least 150,000 graduates and 100,000 technicians every year. Most of those choose to stay in Chengdu.
By the end of last year, Chengdu had 1.5 million professional and technical personnel, more than 30,000 technological enterprises, and 84 innovation and entrepreneurship sites, covering 2.8 million square meters in total. The city officially launched the "Entrepreneurial Tianfu" program early in February. This aims to encourage university students, scientific and technological talent, and top overseas talent to start businesses, and venture capital and top entrepreneurs to invest in Chengdu, to boost the development of the innovation and intelligence industries.
According to the program plan, Chengdu will establish an entrepreneurship support system by 2020, with 200,000 scientific and technological entrepreneurs.
It aims to become an internationally renowned city of entrepreneurship and a "dream-realizing city" by 2025.
"Chengdu warmly welcomes scientific and technological innovation enterprises and talents," Tang said.
"At the same time, we have given our commitment to creating a better investment environment, building the city into a world-class supply chain ecosystem, as well as making the electronic information industry a key development direction."
Contact the writers at liyu@chinadaily.com.cn and pengchao@chinadaily.com.cn and pengyining@chinadaily.com.cn