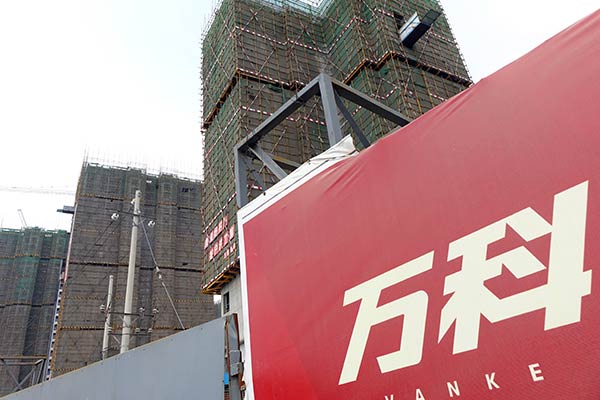 A real estate project of Vanke, China's largest residential real estate developer, in Zhengzhou, Henan province. [Photo / China Daily]
Transformations in the nation's largest residential real estate developer are mostly a reflection of the personal changes in its dynamic chairman
Among Wang Shi's many hobbies are sailing, gliding and mountaineering. An adventurer at heart, the chairman of Vanke, the nation's largest residential real estate developer, successfully reached the Seven Summits, the highest mountains of each of the seven continents, from 2002 to 2004. In 2005, he reached the North and South Poles.
While Wang's adventurous achievements have long been chronicled, what hasn't been widely discussed are his recent educational pursuits. From 2011 to 2013, he attended Harvard University as a visiting scholar. Last year, he took several classes at the University of Cambridge.
Looking back, Wang says the studies abroad greatly transformed and enriched his views of the world. The experience, he says, has also been a powerful influence on how Vanke currently does business.
In recent years, Vanke has shifted in focus from purely being a property developer to becoming a national leader in green building technologies.
At the Asia Business Forum hosted by London Business School in January, Wang said Vanke's evolution began five years ago when he heard then premier Wen Jiabao's announcement that China would be committed to tackling climate change and reducing its emissions.
Vanke then began targeting high-tech construction techniques and expanding its range of property development to resorts and retirement homes.
"I realized that Vanke needed to face the future. A commitment to reducing climate change is the responsibility of China as a nation and its individual entrepreneurs. And it makes business sense in the long term, as greener technologies will lead to reductions in the use of resources like water and timber," he says.
"I want to do more to push the whole green building sector forward, so China can fulfill its promise on climate change."
Wang, born in 1951 in the Guangxi Zhuang autonomous region, established the Shenzhen Modern Scientific Education Equipment Distribution Centre in 1984, which became later known as China Vanke Co Ltd.
Vanke has since become China's largest residential real estate developer, with around 200 billion yuan ($32 billion; 28 billion euros) in sales in 2014. It garnered a listing on the Shenzhen Stock Exchange in 1991.
Although Vanke has only constructed 3 percent of China's total residential properties, the company claims it has constructed about 30 percent of the nation's green buildings.
He says an important green building technology favored by Vanke is prefabrication, which saves significant amounts of timber, water and energy compared to traditional technologies.
Prefab entails the assembling of a building's components in a factory and transporting them to the construction site where the structure is to be located.