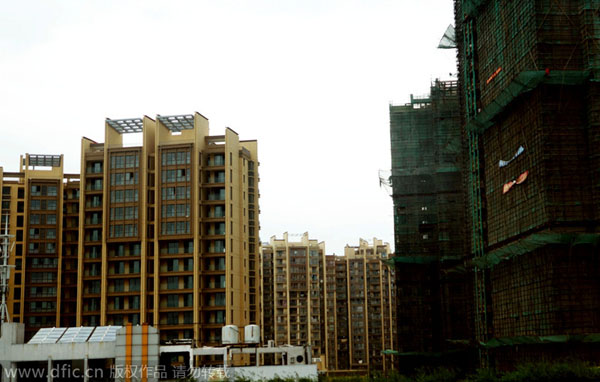 A property construction site in Henfei, capital of Anhui province, July 14, 2013. [Photo/IC]
While many lower-tier cities grapple with vast volumes of unsold housing, some developers choose to beat a path to an untapped market.
A giant red stadium in the shape of a drum stood out amid barren surroundings in the cold, arid and hazy northern city of Hefei, the capital of Anhui province. According to locals, the stadium is in the Guinness World Records, where it is listed as the largest drum-shaped building.
The building turns out to be the showroom for a property project being built by Dalian Wanda Group Co Ltd, China's largest commercial property developer, which claims that the massive complex will cost more than 30 billion yuan ($4.8 billion).
A giant electronic screen hanging from the ceiling in the center of the showroom plays programs that draw comparison to projects in Manhattan, the Central district of Hong Kong and the Ginza in Tokyo. On the screen are digital renderings of the gigantic project, which will eventually have office towers, apartments and villas, exhibition centers, a theme park, cinema chains and an artificial lake.
"The provincial government's headquarters will move near here and a new subway line will run through. Soon, the price is going to rise," a saleswoman told a visiting couple.
The bustling scene is a microcosm of how the hinter-land city is navigating the national property downturn. The Wanda Cultural Tourism City, as the project was named, alone sold 6.8 billion yuan worth of housing last year, according to the China Index Academy, a division of Sou Fun Holdings Ltd.
That sales figure put it in the top 10 nationwide, according to the academy. Eight of the 10 projects were in first-tier cities. The Wanda project and another in Hefei were the two exceptions.
In2014, the average home price in Hefei rose 4.13 percent to 7,423 yuan per square meter. By comparison, the average price in other second-tier cities, which are similar in size to Hefei, fell 5.53 percent, according to the academy.
And yet even with the gain in 2014, prices in Hefei were far below those of comparable cities. In Hangzhou, a richer second-tier city, the average was 16,133 yuan per sq m in December, and that was after a 10.63 percent contraction in 2014. For developers, these gaps signal opportunities.