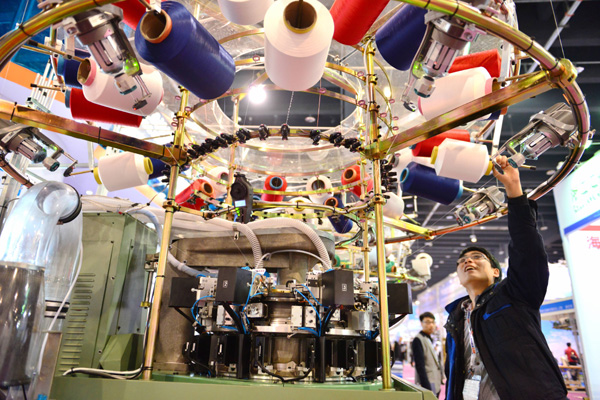 Weaving machines developed by a company in Shaoxing, Zhejiang province, on display at an international machinery manufacturing expo in Yiwu. China's machinery sector reported a record trade surplus last year. [Photo provided to China Daily]
Private enterprises look to exports to cope with overcapacity
The machinery sector posted a record trade surplus of $79.1 billion last year, lifted by rapidly growing exports from private manufacturers, a senior official of the China Machinery Industry Federation said on Wednesday.
Facing weak domestic demand amid a slowing economy, private machinery companies looked actively for foreign customers, who bought $148.9 billion worth of products, up 14.35 percent year-on-year, according to data from the federation.
The industry as a whole had exports of $402.3 billion, up 8 percent, while imports rose 8.2 percent to $323.2 billion.
Cai Weici, a senior adviser of the federation, said that given the severe overcapacity in the domestic machinery market, the trade surplus is set to expand in the coming years.
"It also demonstrates that China's equipment products are becoming competitive in the global market," he said.
In recent years, private companies accounted for only about one-third of machinery exports, but the proportion will be more than half very soon, based on current developments, Cai said.
However, Chen Bin, head of the federation, said that although export volumes are expanding, the profitability of those exports are uncertain because many companies are selling abroad at low prices to soak up the output of their excess capacity.
Affected by the country's slowing economic growth, the machinery industry is facing challenges, Chen said.
In 2014, the sector expanded 9.4 percent, generating total revenue of 22.2 trillion yuan ($3.57 trillion), according to the federation. The growth rate was 4.4 percentage points lower than the previous year, Chen said.
The industry had aggregate profits of 1.56 trillion yuan last year, up 10.6 percent, but the gain was 5 percentage points lower than the previous year.
Chen said that profits were affected by declining prices and shrinking demand.