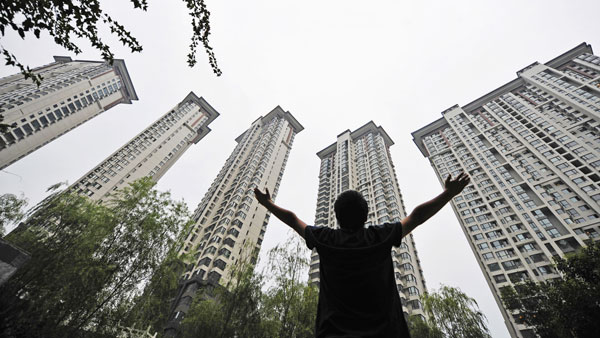 A housing project in Luoyang, Henan province. Property prices in all major cities declined in July, the National Bureau of Statistics said on Monday. [Provided to China Daily]
The average new-home price in China has risen for the first time since April, rebounding earlier than expected, as a private housing researcher found last month that new-home prices in an increasing number of the 100 cities it tracks had increased.
The average new-home price for 100 cities rose 0.21 percent in January over the previous month, according to the China Index Academy, the research branch of SouFun Holdings Ltd.
That compared with a 0.44 percent month-on-month fall in December. It was also the first time that the average price rose after eight consecutive months of decline last year, indicating that after three months of housing sale increases, the price has hit an upward track.
The academy said 44 cities out of the 100 it monitored saw a price increase, compared with 30 in December. The average new-home price in the 10 major cities posted a stronger growth of 0.59 percent.
Prices in first-tier cities rose. The average price in Beijing rose the most, up 1.15 percent, to hit 32,412 yuan ($5,185) per square meter. The price in Shanghai gained 0.78 percent to 32,278 yuan per sq m.
The upward trend was backed by positive market sentiment brought by some upbeat news. Premier Li Keqiang in last month's Davos Summit in Switzerland gave a rare endorsement to the real estate sector, saying China's ongoing urbanization process means that demand for housing is a "long-term" phenomenon.
"Mild volatility in home prices could help to squeeze out speculative demand, and ordinary housing consumption should stabilize this year," said Zhu Zhixin, vice-minister of the National Development and Reform Commission, the top economic planner, at a conference last month.
Home sales in major cities also began to pick up in the third week of January after falling the previous two weeks. As a result, in the first 25 days of last month, according to the China Index Academy, home sales in the four first-tier cities rallied nearly 60 percent over the same period a year ago. In Shenzhen, sales more than tripled.